E-book
Smart Is the New Rich: If You Can t Afford It, Put It Down
ISBN: 978-0-470-92567-6
320 pages
October 2010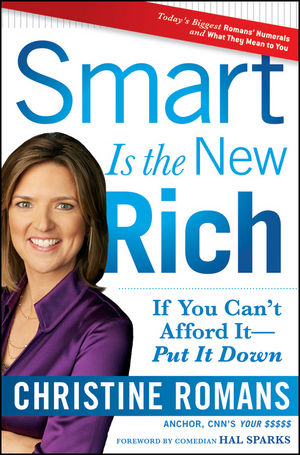 A practical way to think about money today
Author and CNN veteran money correspondent Christine Romans believes we should live by three qualifiers: living within our means, living with less debt, and being less vulnerable. While some may say this is old-fashioned, today it's hard to argue with Romans' view.
Smart is the New Rich explores how adopting a new approach to money can lead to a healthier financial lifestyle. Each chapter opens with a question about money to begin the conversation about earning, saving, spending, growing, and protecting your money. Using checklists and quizzes, Romans guides you through the "New Normal," helping you to think differently about your money and relearning good habits for prosperity.
Reexamines the money rules abandoned during the consumer bubble and poses the essential questions we should ask ourselves before spend our money
Provides an interactive, step-by-step guide to all things money, from credit, debt, and savings to investing, taxes, and mortgages
A companion Web site allows you to chat with other readers about jobs, mortgage rates, investing, and saving
For thirty years, the financial rules for life revolved around abundant credit. That bubble has burst. Smart is the New Rich addresses why these rules no longer apply, and reveals what it will take to make the right money choices moving forward.
See More
Foreword.
Preface.
Acknowledgments.
Chapter 1 Reset, Repair, Recover.
Pop!
The Retro Reset.
Repair the Balance Sheet.
Recover.
The Payoff.
Chapter 2 Spending Your $$$$$.
Going Retro.
Living Beyond Their Means.
The Value Consumer.
The Recession-Weary.
The Conspicuous Consumer.
A Fool and His Money.
Be a Good Steward.
Retro Spending Rules.
The Payoff.
Chapter 3 Your Job.
Turning the Corner.
Top of Your Game Every Day.
Take a Pay Cut?
Switching Careers.
Where Are the Jobs?
Location, Location, Location.
Education.
Good Pay, No Degree.
Green-Collar Jobs.
You've Just Lost Your Job.
You Have a Job—Protect It.
You Think Layoffs Are Coming.
The Permalancer.
Long-Term Unemployed.
No Job Yet? Write It Off.
The Payoff.
Chapter 4 Debt.
Miracle or Mirage?
Sit on an Apple Box.
Generation Debt.
Respect Credit, Pay Off Debt.
The Dreaded Score.
Student Loans.
$200 Saved Now or Pay $396 Later.
Keeping Down College Costs.
Student Loan Defaults.
Mortgage Debt.
Will Borrowing Costs Rise?
The Payoff.
Chapter 5 Credit Cards.
Credit Card "Rich."
New Rules, Rights, and Traps.
Credit Card Gotchas.
Debt Free in Three.
Card Payment Strategies.
Cutting Up the Cards.
Debt Revolt.
Boring Is Better.
Debtor Beware.
The Payoff.
Chapter 6 Home Sweet Home.
POP!
Affordability.
Mortgage Rate versus Home Price.
Getting a Loan.
The Fancy Kitchen Dream.
Renting.
Losing a Home.
The Inevitable Scams.
The Payoff.
Chapter 7 Save, Invest, Retire.
Good Steward.
The Proverbial Rainy Day.
Getting Started, Starting Over.
Finding Your Magic Number.
Fixing Your 401(k).
Sabotaging Your Retirement.
Stay Focused.
ETF.
The Payoff.
Chapter 8 Family Money.
Lead by Example.
Take Out the Trash!
Generation Y.
Paying for College.
Sandwich Generation.
Caring for a Parent.
'Til Debt Do Us Part.
Breaking Up Is Hard to Do.
The Payoff.
Chapter 9 Health Care.
Reform and You.
Under 26 Years Old.
State Health Exchanges.
CLASS Act.
FSA Changes.
Hospital Responsibility.
Health Care as Livelihood.
The Payoff.
Chapter 10 Small Business.
The Disappearing Banker.
"I Can Create Jobs!"
Social Butterfly.
Shop Local.
Cupcake Sisters.
Yes to Carrots.
Find the Money.
The Payoff.
Chapter 11 Government.
United States of Bailouts.
They Got It Wrong.
Spend, Spend, Spend.
The Payoff.
Appendix A Cover Letters: The Good, the Bad, the Ugly.
Appendix B Web Resources.
Notes.
About the Author.
Index.
See More
CHRISTINE ROMANS is the host of CNN's Your $$$$$, as well as a featured correspondent on the network's American Morning and CNN International. She is a former correspondent for both Moneyline and Lou Dobbs Tonight, and spent several years reporting from the floor of the New York Stock Exchange. In 2004, she received an Emmy Award for her reporting on Exporting America, a Lou Dobbs Tonight investigation into the impact of globalization on U.S. workers. Prior to joining CNN, Romans reported for Reuters and Knight-Ridder Financial News.
See More