Textbook
Fundamentals of Fluid Mechanics, 6th Edition Student Value Edition
ISBN: 978-0-470-92653-6
784 pages
October 2010, ©2011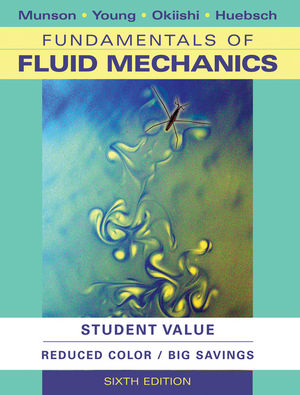 Now available in a value priced
one-color, paperback version
, your students can purchase the number one text in its field at a price they can afford!
Fundamentals of Fluid Mechanics, Student Value Edition
is respected by professors and students alike for its comprehen-sive topical coverage, its varied examples and homework problems, its application of the visual component of fluid mechanics, and its strong focus on learning. The authors have designed their presentation to allow for the gradual development of student confidence in problem solving. Each important concept is introduced in simple and easy-to-understand terms before more complicated examples are discussed. The Student Value Edition is the complete 6th edition in a value priced paperback format.
Continuing this book's tradition of extensive real-world applications, the new 6th edition SVE includes more Fluids in the News case study boxes in each chapter, new problem types, an increased number of real-world photos, and additional videos to augment the text material and help generate student interest in the topic. Example problems have also been updated and numerous new photographs, figures, and graphs have been added. In addition, there are 150 videos designed to aid and enhance student comprehension, support visualization skill building and engage students more deeply with the material and concepts. These videos are noted in the text at appropriate locations and include relevant descriptions of the material. These visual aids can be a significant asset to aiding the student s learning of the core concepts in fluid mechanics. Approximately 70 of the 150 videos are NEW to this edition. Wiley PLUS is available for adoption with this text: A complete online learning system to help prepare and present lectures, assign and manage homework, keep track of student progress, and customize your course content and course delivery. Talk to your local Wiley representative for details on setting up your Wiley PLUS course.
See More
1. Introduction
2. Fluid Statics
3. Elementary Fluid Dynamics -- The Bernoulli Equation
4. Fluid Kinematics
5. Finite Control Volume Analysis
6. Differential Analysis of Fluid Flow
7. Dimensional Analysis, Similitude, and Modeling
8. Viscous Flow in Pipes
9. Flow Over Immersed Bodies
10. Open-Channel Flow
11. Compressible Flow
12. Turbomachines
Appendix A: Computational Fluid Dynamics and Flowlab
Appendix B: Physical Properties of Fluids
Appendix C: Properties of the U.S. Standard Atmosphere
Appendix D: Compressible Flow Data for an Ideal Gas
Appendix E: Comprehensive Table of Conversion Factors
Additional appendixes are available on the book companion site.
See More
New to the Standard 6th Edition - These Features Carry Over to the Student Value Edition
This text features 150 videos (70 of which are brand new to this edition) designed to aid and enhance student compre-hension, support visualization skills and engage students more deeply with the material and concepts.
There are approximately 270 new illustrations and 270 new photographs.
The edition includes new problem types such as less difficult problems to help students build their understanding; problems that require students to identify what is occurring in a system; and life-long learning problems, where students are asked to research topics and describe what they have learned and then connect their learning to problems in the book.
Learning Objectives are included at the beginning of each chapter to reflect the overall learning objectives of the chapter. At the end of each chapter is a list of the main equations for the chapter
See More
VISUALIZATION videos, illustrations, and photos. There are 150 video segments (70 new for this edition!) illustrating fluid mechanics as it really is, each identified at appropriate times in the text with an icon. There are approximately 270 new illustrations and 270 new photographs.
EXAMPLES - Fluids in the News case study boxes in each chapter (many with associated homework problems) include 60 short news stories illustrating current, important ways fluid mechanics enter life.
EXAMPLES-More than 150 worked example problems provide detailed solutions, and many have been extended to illus-trate the effects of changing parameter values.
PROBLEMS/EXERCISES -30% of the more than 1300 homework problems are new for this edition, including new "Life long learning" problems that involve obtaining additional information about new topics.
PROBLEMS -Includes simple CFD problems that can be solved using FlowLab, and Excel-based lab problems. Domes-tic adopters may request free access to run FlowLab.
WileyPLUS -- WileyPLUS includes algorithmic, GO Tutorial and Multi-step problems, and problems designed to evaluate and reinforce conceptual understanding. Includes 150 videos and e-version of textbook.
See More