E-book
When Prime Brokers Fail: The Unheeded Risk to Hedge Funds, Banks, and the Financial Industry
ISBN: 978-0-470-92741-0
290 pages
June 2010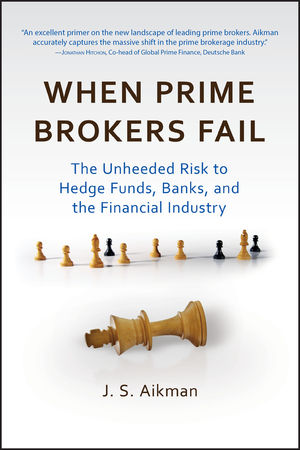 An informative primer on the new landscape of leading prime brokers
Before the recent financial crisis, both regulators and market participants disregarded the complex and dangerous nature of the relationship between prime brokers (the banks) and their clients (the funds). In When Prime Brokers Fail, J. S. Aikman examines the convoluted structure of this relationship, the main participants, and the impact of the near collapse of prime brokerages on the financial world.
Filled with in-depth insights and expert advice, When Prime Brokers Fail takes a close look at the unheeded risks of prime finance and lays out the steps required for managers to protect their funds and bankers to protect their brokerages.
Examines the challenges, trends, and risks within the prime brokerage space
Discusses the structural adjustments firms will need to make to avoid similar disasters
Analyzes the complex relationship between hedge funds and their brokerages and the risks that multiply in extraordinary markets
Covers new ways to manage an inherently risky business and the regulations that may soon be introduced into this arena
Engaging and informative, this timely book details the intricacies and interdependencies of prime brokerages and the role that these operations play in our increasingly dynamic financial system.
See More
Acknowledgments.
PART I The Business.
Chapter 1 Extraordinary Markets.
Chapter 2 Fundamentals of Prime Finance.
Chapter 3 Strategy and Opportunity.
PART II The Players.
Chapter 4 Hedge Funds.
Chapter 5 Hedge Fund Managers and Investment Advisers.
Chapter 6 Prime Brokerages.
Chapter 7 Prime Brokerage Business Model.
Chapter 8 Securities Lending and Financing.
Chapter 9 Executing Brokers.
PART III The Risks and Rewards.
Chapter 10 Life Cycles.
Chapter 11 Risk Management.
Chapter 12 Legal and Compliance Issues.
Chapter 13 What the Future Holds.
Appendix A Prime Broker List.
Appendix B List of Securities Lenders.
Appendix C Prime Broker Due Diligence Questionnaire.
Appendix D Useful Links—Prime Finance.
Bibliography.
Glossary of Useful Terms.
About the Author.
Index.
See More
J. S. Aikman is a management consultant and lawyer advising managers and financial institutions. He also lectures on hedge funds and investment banking at the University of Toronto. Previously VP and counsel for a bulge-bracket investment bank in London, Aikman has broad international experience in alternative investments and has served as adviser to many successful entrepreneurial ventures. Aikman completed his MBA at Oxford University. He may be reached at ja@jsaikman.com.
See More