The Crash Course: The Unsustainable Future Of Our Economy, Energy, And Environment
ISBN: 978-0-470-92764-9
Hardcover
336 pages
March 2011
US $27.95

Add to Cart
This price is valid for United States. Change location to view local pricing and availability.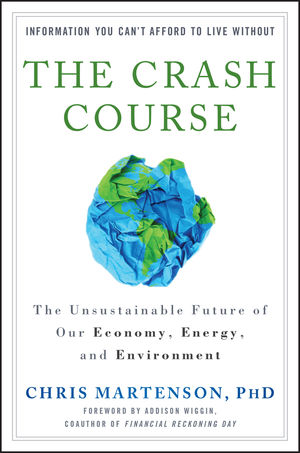 Other Available Formats:
E-book
March 07, 2011
THE CRASH COURSE: The Unsustainable Future of Our Economy, Energy, and Environment
Connect with Wiley Publicity
For anyone who wants to understand the interconnectedness of our worrisome national debt, rising food & oil prices, Middle East unrest, pension standoffs and environmental tragedies like the Deepwater rig disaster, THE CRASH COURSE is essential reading. The future, as foreseen in this book, is now unfolding in real-time; having the proper 'lens' through which to interpret developing events in their proper context offers the reader an invaluable advantage.
Despite the disquieting financial events in 2008 and 2009 the "twenty teens" will be even more challenging, according to economic researcher and futurist, Chris Martenson, PhD.
In THE CRASH COURSE: The Unsustainable Future of Our Economy, Energy, and Environment (Wiley; April 2011) Martenson identifies a fast-approaching crisis defined by accelerating declines in global supplies of energy and key natural resources – the essential inputs for economic growth. Fewer inputs mean a future of "less" in everything: fewer goods and services produced, fewer jobs, lower portfolio values, less government support. Because of how our economy operates, any sustained contraction is enormously disruptive – yet most are unaware of the magnitude and nearness of the risks we are facing.
This is not a "gloom & doom" story, rather, THE CRASH COURSE presents an honest assessment of our predicament and illuminates the path ahead. Its goal is to help individuals, communities, and companies understand the coming disruption and position themselves for it – so that they can thrive in this future. In this book you will find solid facts and grounded reasoning presented in a calm, positive, non-partisan manner.
Through THE CRASH COURSE, Martenson imparts:
More accurate insights than traditional economists and financial pundits on the true factors at play that impact our wealth and standard of living;
An easy-to-understand, intuitive explanation of what the future holds and what it all means for us as individuals and a society;
Actionable guidance – smart steps individuals can take today with their wealth and their lifestyles in order to be well-positioned for the upcoming "future of less."
Moreover, Martenson's analysis is backed by the following assets:
Track record: THE CRASH COURSE tenets were first publicly published in 2004. Martenson predicted major developments (e.g., economic contraction/financial markets correction, housing market collapse, energy supply breakdowns) well before they occurred along with recommended strategies (e.g. investing in gold & silver and home energy efficiency) that have since proven wise.
Counsel sought by decision makers: Martenson is regularly invited to speak at organizations like the United Nations, UK Houses of Parliament, US state legislatures, large multinational corporations and capital management firms.
Alignment with his core message: Martenson and his family have completely remodeled their lives in accordance with his views.
Agnostic, data driven approach: Martenson does not have any dogmatic or belief-oriented associations; his focus is on distilling factual truth from data.
Positive focus: His core message is that by taking appropriate action today, we can use the coming change to create a world worth inheriting.
THE CRASH COURSE is written for individuals and societies who are motivated to reshape their lives to be more balanced, resilient, and sustainable in light of the increasing challenges our economy, energy systems, and environment face. A positive vision for anyone with family, wealth, or business interests to protect and nurture, this book is an essential guide to understanding the new decade we've just entered.