Pharmacogenomics of Human Drug Transporters: Clinical Impacts
ISBN: 978-0-470-92794-6
440 pages
April 2013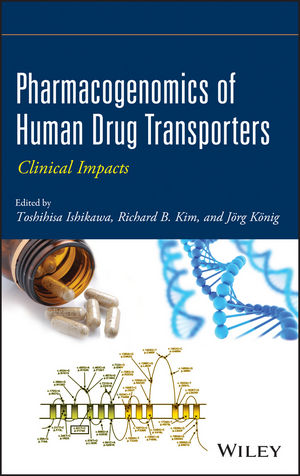 Sets the foundation for safer, more effective drug therapies
With this book as their guide, readers will discover how to apply our current understanding of the pharmacogenomics of drug transporters to advance their own drug discovery and development efforts. In particular, the book explains how new findings in the field now enable researchers to more accurately predict drug interactions and adverse drug reactions. Moreover, it sets the foundation for the development of drug therapies that are tailored to an individual patient's genetics.
Pharmacogenomics of Human Drug Transporters serves as a comprehensive guide to how transporters regulate the absorption, distribution, and elimination of drugs in the body as well as how an individual's genome affects those processes. The book's eighteen chapters have been authored by a team of leading pioneers in the field. Based on their own laboratory and clinical experience as well as a thorough review of the literature, these authors explore all facets of drug transporter pharmacogenomics, including:
Individual drug transporters and transporter families and their clinical significance
Principles of altered drug transport in drug–drug interactions, pharmacotherapy, and personalized medicine
Emerging new technologies for rapid detection of genetic polymorphisms
Clinical aspects of genetic polymorphisms in major drug transporter genes
Future research directions of drug transporter pharmacogenomics and the prospect of individualized medicine
Pharmacogenomics of Human Drug Transporters opens the door to new drug discovery and development breakthroughs leading to safer and more effective customized drug therapies.The book is recommended for pharmaceutical scientists, biochemists, pharmacologists, clinicians, and genetics and genomics researchers.
See More
PREFACE vii
CONTRIBUTORS ix
CHAPTER 1 INTRODUCTION TO PHARMACOGENOMICS OF DRUG TRANSPORTERS 1
Marianne K. DeGorter and Richard B. Kim
CHAPTER 2 ADME PHARMACOGENOMICS IN DRUG DEVELOPMENT 13
Liangfu Chen and Joseph W. Polli
CHAPTER 3 REGULATORY PERSPECTIVE ON PHARMACOGENOMICS OF DRUG-METABOLIZING ENZYMES AND TRANSPORTERS 39
Lei Zhang, Gilbert J. Burckart, Lawrence J. Lesko and Shiew-Mei Huang
CHAPTER 4 THE PHARMACOGENOMICS OF MEMBRANE TRANSPORTERS PROJECT 73
Sook Wah Yee, Deanna L. Kroetz and Kathleen M. Giacomini
CHAPTER 5 EMERGING NEW TECHNOLOGY OF SNP TYPING 109
Toshihisa Ishikawa and Yoshihide Hayashizaki
CHAPTER 6 OATP1A2, OAT1, AND OAT3 125
Rommel G. Tirona
CHAPTER 7 OATP1B1, OATP1B3, AND OATP2B1 141
J¨org K¨onig and Martin F. Fromm
CHAPTER 8 OCT (SLC22A) AND OCTN FAMILY 171
Sophie L. Stocker, Arian Emami Riedmaier, Matthias Schwab and Kathleen M. Giacomini
CHAPTER 9 MATE (SLC47) FAMILY 209
Atsushi Yonezawa and Ken-ichi Inui
CHAPTER 10 PEPT (SLC15A) FAMILY 223
Tomoko Sugiura, Saki Umeda, Akira Tsuji and Yukio Kato
CHAPTER 11 NUCLEOSIDE TRANSPORTERS (SLC28 AND SLC29) FAMILY 243
M´ýriam Molina-Arcas and Marc¸al Pastor-Anglada
CHAPTER 12 P-GLYCOPROTEIN (MDR1/ABCB1) 271
Ingolf Cascorbi
CHAPTER 13 BSEP (ABCB11) 295
Bruno Stieger and Gerd A. Kullak-Ublick
CHAPTER 14 BCRP (ABCG2) 311
Agnes Basseville, Susan E. Bates, William D. Figg and Alex Sparreboom
CHAPTER 15 MRP2 (ABCC2) AND MRP3 (ABCC3) 345
Anne T. Nies
CHAPTER 16 MRP4 (ABCC4) 365
Satish B. Cheepala, Mugdha Sukthankar and John D. Schuetz
CHAPTER 17 MRP8 (ABCC11) 387
Yu Toyoda and Toshihisa Ishikawa
CHAPTER 18 FUTURE PERSPECTIVES 401
Toshihisa Ishikawa and Joseph Ware
INDEX 417
See More
TOSHIHISA ISHIKAWA, PhD, is Senior Scientist at RIKEN Yokohama Institute and Professor of Biochemistry, Molecular Biology, and Pharmacogenomics at Yokohama City University's Graduate School of Medicine. Previously, Dr. Ishikawa was the Director of the Department of Research Technology Development at Pfizer, Japan. A recipient of the Achievement Award from the International Life Sciences Institute (ILSI), Dr. Ishikawa is also the cofounder of the International Transporter Consortium (ITC).
RICHARD B. KIM, MD, FRCPC, is Professor and Chair of the Division of Clinical Pharmacology and Associate Chair for Research in the Department of Medicine at the University of Western Ontario. He is a Fellow of the American Association of Pharmaceutical Scientists and an elected member of the American Society for Clinical Investigation.
JÖRG KÖNIG, PhD, is Professor and Head of the Molecular Biology Laboratories in the Department of Clinical Pharmacology at the Friedrich-Alexander Universität Erlangen-Nürnberg.
See More