E-book
Intermediate Structured Finance Modeling: Leveraging Excel, VBA, Access, and Powerpoint
ISBN: 978-0-470-92875-2
1008 pages
May 2016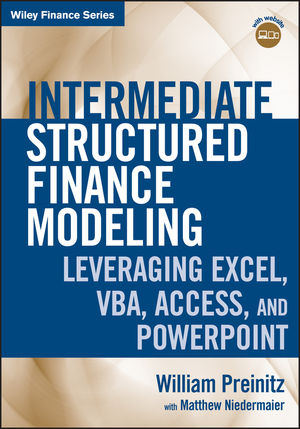 This book provides a pragmatic, hands-on approach to reaching an intermediate level of sophistication as a financial modeler. Expanding on the first book, A Fast Tract to Structured Finance Modeling, Monitoring, and Valuation, the book will guide you step-by-step through using learned principals in new and more powerful applications. These applications will build on the knowledge of Excel and VBA gained, expand the use of Access for data management tasks, as well as PowerPoint and Outlook for reporting and presentation tasks.
See More
Preface.
Goals of the Book.
What You Should Know.
Setting the Context for Learning.
The Structure of the Book.
A Fish Story.
A Perspective on Modeling.
Approaching This Material.
Style.
A Parting Remark.
On the Web Site.
Acknowledgments.
PART ONE. First Steps.
CHAPTER 1. Introduction.
CHAPTER 2. The Existing Model.
CHAPTER 3. Conventions and Advice.
CHAPTER 4. Segregation of the Existing Model's Functionality.
CHAPTER 5. Creating the Base Asset Model.
CHAPTER 6. Building the Base Liabilities Model.
CHAPTER 7. Establishing the Model Environment.
PART TWO. Building the New Assets Model.
CHAPTER 8. Designing the New Collateral Cash Flow Generator.
CHAPTER 9. Writing the CCFG Menus and Data Sheets.
CHAPTER 10. Writing the Collateral Data Handling Code.
CHAPTER 11. Writing the Collateral Selection Code.
CHAPTER 12. Writing the Collateral Cash Flow Amortization Code.
CHAPTER 13. Writing the CCFG Reporting Capability.
PART THREE. Building the New Liabilities Model.
CHAPTER 14. Designing the Liabilities Waterfall Model.
CHAPTER 15. Writing the Liabilities Waterfall Model Spreadsheet.
CHAPTER 16. Writing the LWM VBA Code.
PART FOUR. Access, PowerPoint, and Outlook.
CHAPTER 17. Access: An Introduction.
CHAPTER 18. Implementing Access in the CCFG and LWM.
CHAPTER 19. Implementing PowerPoint and Outlook in the CCFG.
PART FIVE. Running the CCFG and the LWM.
CHAPTER 20. Running the Models.
Afterword.
Exhibits Index.
Subject Index.
See More
WILLIAM PREINITZ
has thirty years' experience in investment banking and structured finance analytics. A former managing director at Citigroup, highlights of his career include the creation and marketing of securitizations backed by 12b-1 mutual fund fees. With a team of ten people over a fifteen-year period, his group concurrently provided analytical structuring support for the over 100 different asset classes contained in the ABCP program of the bank. These included such varied items as movie revenues, fast-food franchise financing, and communication satellite leasing. In conjunction with the bank's corporate training program, he taught Excel/VBA modeling classes to over 300 people ranging from associates to managing directors.
MATTHEW NIEDERMAIER is currently a vice president in the Structured Finance Group at Markit, where he is a member of a pricing and valuation group focused on agency mortgages and CMOs. Within Markit he has also taught courses in Excel/VBA globally. Prior to Markit he modeled U.S. and Latin American ABS deals at Citigroup, including auto loans, credit cards, and timeshares.
See More