Do More Faster: TechStars Lessons to Accelerate Your Startup
ISBN: 978-0-470-92983-4
Hardcover
352 pages
October 2010
US $29.95

Add to Cart
This price is valid for United States. Change location to view local pricing and availability.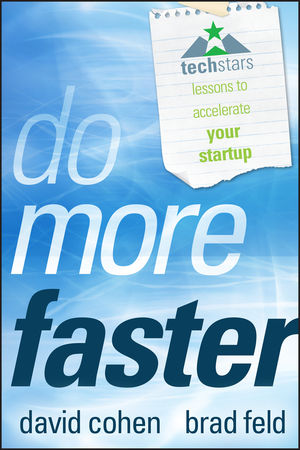 Other Available Formats:
E-book
October 12, 2010
Do More Faster
Connect with Wiley Publicity
Start up companies often fail. Even those entrepreneurs who have achieved success often have stories of staggering personal challenges and failures. The bone yard of unsuccessful entrepreneurial endeavors stretches wide and deep. Enter TechStars, a mentor-driven seed accelerator that has helped numerous fledgling companies attract over $25 million in venture capital and angel investment. Having worked with thousands of entrepreneurs and hundreds of companies over the past 25 years, the founders of TechStars have seen the same issues come up over and over again. In DO MORE FASTER: TechStars Lessons to Accelerate Your Startup (Wiley; October 2010; $29.95; 978-0-470-92983-4; Hardcover), TechStars Founders David Cohen and Brad Feld have amassed unique insights into what it takes to make a start up company successful.
Once a year in several U.S. cities, TechStars funds about 10 Internet start up companies with a small amount of capital and surrounds them with around 50 top Internet entrepreneurs and investors. Historically, about 75 percent of the companies that go through TechStars raise a meaningful amount of angel or venture capital.
DO MORE FASTER is a collection of advice that comes from individuals who have passed through, or are part of, this proven program. Each vignette is an exploration of information often heard during the TechStars program and provides practical insights into early stage entrepreneurship.
The book contains seven sections, each focusing on a major theme within the TechStars program, including,
Idea and Vision: Start up companies are about testing theories and quickly pivoting based on feedback and data. Only through hundreds of small—and sometimes large —adjustments does the seemingly overnight success emerge.
People: The famous real estate cliché is "The three most important things in real estate are location, location, location." An analogous entrepreneurship cliché is "the three most important things in entrepreneurship are people, people, people." Everything starts with people, and it is important that first-time entrepreneurs be exposed to a wide range of people. Meanwhile, experienced mentors benefit from being exposed to a variety of fresh perspectives from the entrepreneurs they work with.
Execution: It's often said that startups are controlled chaos. The best entrepreneurs are those who can manage the chaos, focus on what's important, and find a way to execute efficiently. Execution doesn't mean blindly going from point A to point B without collecting an enormous amount of data from many different sources along the way. Great entrepreneurs know how to synthesize these data, make a decision about the path they are going down, and execute.
Product: The Number One startup killer is making a product for which there is no interesting market. Many startups are attempting to build a product that they want instead of what the markets want. The focus should be on how to get the right product, not about the tactics of building what an entrepreneur images the right product to be.
Fundraising: The vast majority of startups will not be able to achieve profitability quickly enough to avoid death so they look to investors to help them get their businesses up and running. Investors can be a great thing for a business. But they can also cause problems. Understanding the trade-offs, how to communicate and manage expectations, as well as what to expect is critical.
Legal and Structure: While team issues are one of the top startup killers, things left undocumented also lead to fatal problems later. Too many founders ignore legal and structural issues, assuming they can deal with them later.
Work-Life Balance: An amazing work ethic is pretty much a prerequisite for a successful startup; however, the best entrepreneurs also know how to disconnect and unwind. They find a balance that works for them and it makes them stronger entrepreneurs.
Incorporating contributions from such well-known entrepreneurs as Tim Ferriss, Matt Mullenweg, Bijan Sabet, Colin Angle, Dharmesh Shah, Matt Blumberg, Laura Fitton, Greg Gottesman, Bill Warner, Ryan McIntyre, Eric Ries, Ben Huh, Fred Wilson, Dick Costolo, Dave McClure, Andy Sack, Rob Hayes, Jeff Clavier, Jason Mendelson, Eran Egozy, Mark Solon, Howard Lindzon, and Seth Levine, DO MORE FASTER offers practical advice that helps first-timers navigate the startup waters, make decisions about what's right for their business, and get their entrepreneurial endeavor headed in the right direction.