Re-Made in the USA: How We Can Restore Jobs, Retool Manufacturing, and Compete With the World
ISBN: 978-0-470-92992-6
Hardcover
240 pages
April 2011
US $24.95

Add to Cart
This price is valid for United States. Change location to view local pricing and availability.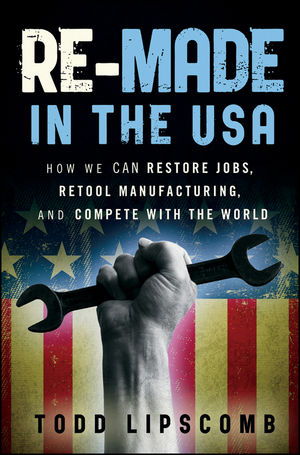 Other Available Formats:
E-book
April 11, 2011
Re-Made in the USA
Connect with Wiley Publicity
Unemployment. Unfair wages. Environmental concerns. These issues have been nagging at the American economy aggressively for the past few years. Unfortunately, this is how the economy will remain if American citizens and businesses do not make a stand against it. For those looking to stop this decline, there is one simple way to help – supporting American-made products, creating a virtuous circle of economic activity here at home.
Author, and founder of MadeinUSAForever.com, Todd Lipscomb's new book, Re-Made in the USA; How We Can Restore Jobs, Retool Manufacturing, and Compete With the World (Wiley: Hardcover; April 2011; $24.95; 978-0-470-92992-6) addresses how issues such as jobs, product quality and safety, wages, the economy, and our status as the world's leading superpower are all tied together with our massive trade deficit.
As an American businessperson living and working in Asia for more than seven years, Lipscomb discovered some disturbing insights into America's place in the global market. Using this firsthand observation and analysis, Lipscomb outlines the very real obstacles that have been placed in America's path to recovery, spells out the weaknesses that could undo China and the strengths that could save the United States.
"America possesses a diverse and empowered workforce, greater entrepreneurial opportunities, and proximity to the most important customer base on the planet, which improves response time to customers' demands and lessens the huge environmental impact of oceanic cargo transport," says Lipscomb. "These attributes prove that the solutions to our economic, environmental and quality issues are right on Americans' doorsteps – all we have to do is take matters into our own hands."
Re-Made in the USA is broken into three main topics - "The Challenges We Face," "How America's Competitors Are Taking Advantage of Us," and "Rebuilding American Manufacturing," that touch on controversial, yet insightful issues including:
How American consumerism has run amuck, focusing only on initial retail price without considering quality or the conditions in which the goods were produced, and the long-term consequences of this outlook.
Today's executives are killing their own customer base as they eliminate middle-class jobs, and then look to Washington for a bailout.
Aside from economic factors, how outsourcing production feeds a lack of worker safety, product safety, and pollution controls in these foreign factories
How citizens, consumers, and business owners can take measures into their own hands by committing to buying and producing American-made products, pressure retailers to follow suit, vote to encourage local, state, and federal governments to do what they can to attract and retain American manufacturing jobs and much more
Readers will undoubtedly find some of the facts in Re-Made in the USA disheartening, and recent developments discouraging, but will ultimately realize America's spirit and gumption are alive and well. The book demonstrates how Americans have the opportunity to chose the path to greatness and a secure and prosperous future by doing what Americans do best—rolling up their sleeves and working hard to fix it.