Selling For Dummies, 3rd Edition
ISBN: 978-0-470-93066-3
384 pages
April 2011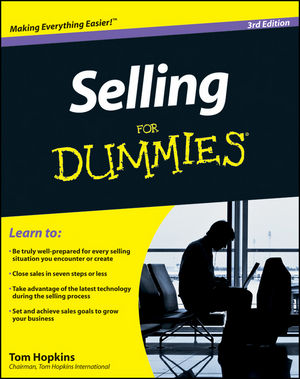 Your hands-on guide to the most up-to-date selling strategies and techniques
Are you looking to enter the world of sales, or are you already a salesperson who's looking for new tips and tactics to expand your business? No matter your level of skill, this guide will help you lay a foundation for sales success, with the latest information on how to research your prospects, break down the steps of the sales process, follow up with happy customers, and much more.
The wonderful world of selling — discover what selling is (and isn't) and find out how mastering selling skills can benefit all areas of your life

Stand out from the crowd — find out how knowing your clients sets you apart from average persuaders and helps you hear more yeses

Scale the steps to success — discover the seven steps of the selling cycle to score appointments, make a good impression, give winning presentations, address client concerns, close sales,and more

If you build it, they will come — take your career to the next level with valuable tips on how to stay in touch with clients, harness the power of the Internet to make more sales, manage your time wisely, and partner with others
Open the book and find:
Tips for approaching selling with passion and a positive attitude

The latest prospecting and qualification strategies

Top techniques for sales presentations

Helpful hints on handling client concerns

Guidance on getting referrals

The scoop on using the latest technology to your advantage

Information on establishing goals and planning your time efficiently

Advice on staying upbeat when you don't succeed
Learn to:
Be truly well-prepared for every selling situation you encounter or create

Close sales in seven steps or less

Take advantage of the latest technology during the selling process

Set and achieve sales goals to grow your business
See More
Introduction.
Part I: Laying a Solid Foundation for Selling.
Chapter 1: Selling Is All Around You.
Chapter 2: The Seven-Step Selling Cycle.
Chapter 3: Love What You Do: Turning Selling into Your Hobby.
Part II: Doing Your Homework Before You Sell a Thing.
Chapter 4: Understanding Your Potential Clients.
Chapter 5: Knowing Your Product.
Chapter 6: Taking Advantage of Technology.
Part III: The Anatomy of a Sale.
Chapter 7: Finding the People Who Need What You Have.
Chapter 8: Arranging Meetings and Putting Your Clients at Ease.
Chapter 9: Qualifying Your Way to Success.
Chapter 10: Making Winning Presentations.
Chapter 11: Addressing Client Concerns.
Chapter 12: Closing the Sale.
Chapter 13: Getting Referrals from Your Present Clients.
Part IV: Growing Your Business.
Chapter 14: Following Up and Keeping in Touch.
Chapter 15: Using the Internet to Make More Sales.
Chapter 16: Planning Your Time Efficiently.
Chapter 17: Partnering with Others.
Part V: You Can't Win 'Em All: Keeping the Faith in Sales.
Chapter 18: Staying Upbeat When You Don't Succeed.
Chapter 19: Setting Goals to Stay Focused.
Part VI: The Part of Tens.
Chapter 20: The Ten Biggest Sales Mistakes to Avoid.
Chapter 21: Ten Strategies for Improving Your Selling.
Chapter 22: Ten Ways to Master the Art of Selling.
Chapter 23: Ten Advanced Closes.
Index.
See More
Tom Hopkins, a millionaire by the time he was 27, is the epitome of sales success. Chairman of one of the most prestigious sales-training organizations in the world, he is the author of more than 15 books, including Sales Prospecting For Dummies and Sales Closing For Dummies (both from Wiley).
See More