E-book
MacBook For Dummies, 3rd Edition
ISBN: 978-0-470-93194-3
432 pages
September 2010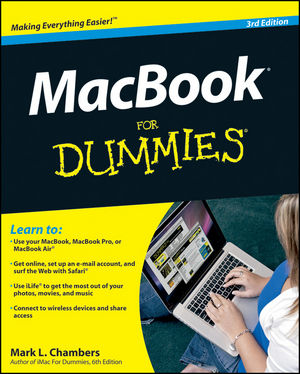 The perfect companion for MacBook users—now updated and revised throughout!
Grab your MacBook—and this Dummies book—and get savvy with all the latest updates to Apple's newest generation of laptop hardware and software. Packed with coverage of the latest MacBook models, Mac OS X Snow Leopard, iLife, and iWork , this new edition is completely revised and updated on all the latest tools and trends in the MacBook world. Seasoned author Mark Chambers shows you how to customize your dock and desktop, stay connected while on the road, make movies with iMovie, create and share DVDs, compose your own music with GarageBand, build a Web site with iWeb, and much more.
Features completely revised and updated information on all the latest tools and trends of the Apple MacBook
Explains how to customize the dock and desktop; connect from the road; take your music mobile; use iWeb, iMovie, iPhoto, and GarageBand; sync with wireless devices; work with networks; and more
Includes coverage of the latest MacBook models, Mac OS X Snow Leopard, iLife, and iWork
MacBook For Dummies, 3rd Edition presents you with all you need to know to get started with your MacBook today!
See More
Introduction.
Part I: Tie Myself Down with a Desktop? Preposterous!
Chapter 1: Hey, It Really Does Have Everything I Need.
Chapter 2: Turning On Your Portable Powerhouse.
Chapter 3: The Laptop Owner's Introduction to Mac OS X.
Part II: Shaking Hands with Mac OS X.
Chapter 4: Opening and Closing and Clicking and Such.
Chapter 5: Getting to the Heart of the Snow Leopard.
Chapter 6: A Nerd's Guide to System Preferences.
Chapter 7: Sifting through Your Stuff.
Part III: Connecting and Communicating.
Chapter 8: Let's Go on Safari!
Chapter 9: MobileMe Is Made for MacBooks.
Chapter 10: Your Laptop Goes Multiuser.
Chapter 11: Working Well with Networks.
Chapter 12: Spiffy Connections for the Road Warrior.
Part IV: Living the iLife.
Chapter 13: The Multimedia Joy of iTunes.
Chapter 14: The Masterpiece That Is iPhoto.
Chapter 15: Making Film History with iMovie.
Chapter 16: Creating DVDs on the Road with iDVD.
Chapter 17: Recording Your Hits with GarageBand.
Part V: Getting Productive with iWork.
Chapter 18: Desktop Publishing with Pages.
Chapter 19: Creating Spreadsheets with Numbers.
Chapter 20: Building Presentations with Keynote.
Part VI: Necessary Evils: Troubleshooting, Upgrading, Maintaining.
Chapter 21: When Good Mac Laptops Go Bad.
Chapter 22: Adding New Stuff to Your Laptop.
Chapter 23: Tackling the Housekeeping.
Part VII: The Part of Tens.
Chapter 24: Top Ten Laptop Rules to Follow.
Chapter 25: Ten Things to Avoid Like the Plague.
Index.
See More
Mark L. Chambers is an author, tech editor, and unabashed Mac fan. He is the author of more than 30 computer books including iMac For Dummies, 6th Edition, Mac OS X Snow Leopard All-in-One For Dummies, MacBook All-in-One For Dummies, and Macs For Seniors For Dummies.
See More