Beautiful Beasties: A Creative Guide to Modern Pet Photography
ISBN: 978-0-470-93227-8
352 pages
September 2012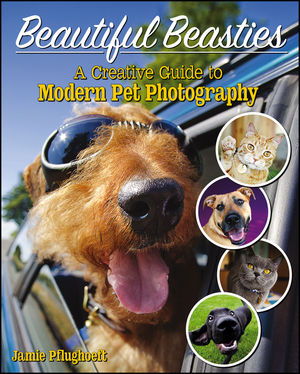 The book pet lovers have been waiting for: professional advice on pet photography
Every pet parent knows how difficult it is to get that calendar-quality photo of a beloved cat or dog. This guide to pet photography is long overdue! Pet lovers will find terrific tips to help them capture their pets? personalities in photos, while professional photographers who want to extend their business opportunities will value advice on the unique challenges of working with animals and creating the portraits their clients want.
With pet owners comprising more than 62 percent of Americans, there is an eager amateur market for a book that reveals how to get great photos of those furry family members
Zeroes in on pet photography as a growing specialty among professional photographers, and this book offers advice for creating great pet portraits as well as tips on working with animals and their owners
Explains how to capture expressions, avoid spooky eyes, edit for better images, work with multiple animals, and much more
As the first serious guide to pet photography on the market, Beautiful Beasties has what pet parents and professional photographers need to capture memorable pet photos.
See More
Introduction x
Chapter One: The History of Pet Photography 2
The Backstory on Pet Photography 4
The True Value of Pet Photos 8
The Pet Photography Industry  14
Classes, Schools, and Workshops  17
Forums  17
Chapter Two: Equipment 20
Cameras, Lenses, Bags, and Accessories 22
Computers, Software, and Computer Accessories  46
Chapter Three: Working with Pets as Models 54
Animal Behavior, Body Language, and Communication  56
Working with Dogs  56
Working with Cats  67
Working with Other Animals  71
Learning About the Individual  77
Photographing Your Pets  78
Chapter Four: Pre-Session Checklists 84
Checking Your Gear and Accessories  86
Shot Lists  89
Defining Session Goals  92
Twenty-Five Tips to Keep in Mind, Before and During a Shoot  94
Chapter Five: Photography Basics 96
Exposure: ISO, Aperture, Shutter Speed  98
Exposure Modes 108
Focusing 121
White Balance 124
RAW vs JPEG 126
Quick-and-Dirty Pet Photography Settings 129
Chapter Six: Lighting 134
Natural vs Auxiliary Lighting 136
Lighting Tools 140
Studio Lighting 144
Lighting Safety 150
Lighting Pet Peeves 154
Chapter Seven: Composition 156
The Rule of Thirds 158
Negative Space 159
Pet-Level Photography 160
PLP in Motion 164
Capturing Expressions 167
General Ideas173
Using Lenses for Variety in Composition 181
Photographing Pets with Their Owners 183
Photographing Multiple Pets 185
Location Ideas 189
Ten Ideas for Getting Variety in Every Session 192
Capturing the Stages in a Pet's Life 193
Pet Photography Don'ts 194
Chapter Eight: Pet Photography Challenge 196
Common Challenges 198
Behavior Challenges 203
Lighting Challenges 208
Weather Issues 212
Location Challenges 215
Elderly or Sick Pets 216
"Stage-Mom" Owners 218
Working in a Studio 221
Legal Considerations 223
Chapter Nine: Post-Production 226
Establishing Your Workflow 228
Archiving and Naming Conventions 232
Editing Basics 238
Culling and Processing in Lightroom 239
Editing in Photoshop 253
Alternative Editing Software 264
Common Novice Photography and Editing Errors 265
Chapter Ten: Developing Personal Style 276
Defining Your Photodogstyle 278
Processing Techniques to Help You Attain Different Styles 281
Expressing Your Artistic Voice 286
Finding Inspiration 288
Chapter Eleven: Going Pro 292
Self-Evaluation Questionnaire: Should I Turn Professional? 294
The Start-Up Process: Getting Started, from A to Z 297
Portfolio Building 300
Expenses 303
Working with Clients 306
Post-Shoot Client Process 308
Chapter Twelve: Business Essentials 310
Pricing 312
Products 317
Branding 322
Marketing 324
Strategies to Increase Revenue 330
Competition and Colleagues 332
The Top-Five Biggest Keys to Success 334
Index 336
See More
Jamie Pflughoeft became addicted to photographing pets while studying animal behavior in college and working as a dog-walker and pet-sitter. She started Cowbelly Pet Photography in 2003, and today she serves commercial, editorial, and private clients as well as teaching photographers around the world about the exciting field of pet photography. Jamie also runs the Beautiful Beasties Network, an online community for pet photographers.
See More