Investigative Computer Forensics: The Practical Guide for Lawyers, Accountants, Investigators, and Business Executives
ISBN: 978-0-470-93240-7
222 pages
April 2013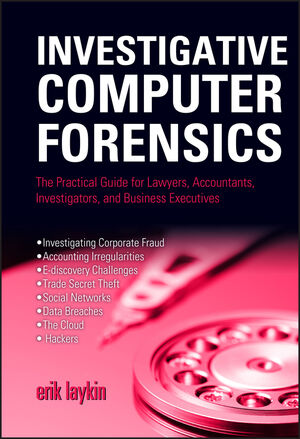 "Having worked with Erik on some of the most challenging computer forensic investigations during the early years of this industry's formation as well as having competed with him earnestly in the marketplace...I can truly say that Erik is one of the unique pioneers of computer forensic investigations. He not only can distill complex technical information into easily understandable concepts, but he always retained a long-term global perspective on the relevancy of our work and on the impact of the information revolution on the social and business structures of tomorrow."
—From the Foreword by James Gordon, Managing Director, Navigant Consulting, Inc.
Get the knowledge you need to make informed decisions throughout the computer forensic investigation process
Investigative Computer Forensics zeroes in on a real need felt by lawyers, jurists, accountants, administrators, senior managers, and business executives around the globe: to understand the forensic investigation landscape before having an immediate and dire need for the services of a forensic investigator.
Author Erik Laykin—leader and pioneer of computer forensic investigations—presents complex technical information in easily understandable concepts, covering:
A primer on computers and networks
Computer forensic fundamentals
Investigative fundamentals
Objectives and challenges in investigative computer forensics
E-discovery responsibilities
The future of computer forensic investigations
Get the knowledge you need to make tough decisions during an internal investigation or while engaging the capabilities of a computer forensic professional with the proven guidance found in Investigative Computer Forensics.
See More
Foreword ix
Preface xi
Acknowledgments xv
Author's Note xvii
Introduction Investigative Computer Forensics 1
Changes in Technology 1
Changes in the Role of the Investigator 2
What Is Computer Forensics? 4
Chapter 1 The Glue 7
The Relevancy of Truth 8
Foundations of Digital Evidence 9
Investigative Objectives 11
The Investigative Process 11
Trust 13
Privacy 14
Chapter 2 A Primer on Computers and Networks 17
The Mechanics of Electronically Stored Information 19
Optical Drives 25
The Server 27
The Router 30
Application Data 32
Metadata 35
Databases 37
E-mail Mechanics 41
The IP Address 43
Computer Time Artifacts 45
Social Media 45
Tablets 48
Cellular Telephones and Smartphones 50
Audio and Video 52
The Global Nervous System: Worldwide Data 54
Fundamentals of Network Traffic 58
The Firewall 59
Data- and Traffic-Gathering Applications 61
Dynamic Data Capture 63
The Cloud 65
International Data Security and Privacy Issues 67
Chapter 3 Computer Forensic Fundamentals 69
The Establishment of the Computer Forensic Laboratory 69
Evidence and Access Controls 73
The Forensic Workstation 79
Current Tools and Services 86
Building a Team and a Process 94
Computer Forensic Certifications 98
The Human Quotient 98
The Devil Is in the Details 124
Chapter 4 Investigative Fundamentals 127
The Investigative Mind-Set 127
Case Management 128
Fraud and Investigative Analysis 129
Information Sources and Records 130
Investigative Techniques 130
Surveillance and Interviewing 132
Trade Secret Theft and IP Investigations 133
Human Resources and Interpersonal Investigations 134
Reporting and Testifying 136
Chapter 5 The Underpinnings of Investigative Computer Forensics 139
Seizure and Examination of Digital Evidence 140
Data Classification and Records Management 140
Deleted Data 143
Backups and Systems Preservation 145
Computer Crime Analysis and Reconstruction 147
The Who, What, Where, How of Data 149
Contracts Agreements, Third Parties, and Other Headaches 154
Ethics and Management 155
Chapter 6 Tactical Objectives and Challenges in Investigative Computer Forensics 157
Preparing for the Attack 158
Early Case Assessment 159
Investigative Pacing, Timing, and Setting Expectations 160
Working with Multinational Teams 161
Collections of Electronic Data in the Cloud and in Social Media 162
Investigating Internet Service Provider Records 164
Bridging the Actual World with the Cyberworld 165
Packaging the Findings 165
Chapter 7 The Cyber-Firefighters 167
Incident Response Fundamentals 167
Data Breaches 170
Theft and Fraud 172
Systems Failures 172
Internal Investigations 173
The Real-Time Predicament 175
Building a Global Resource Network 175
Honeypots and Other Attractive
Intel-Gathering Targets 176
Databases and Structured Data 178
Organized Crime in the Cyber-Underworld 178
The Cyber-Underworld in Various Regions 179
State-Sponsored Cybercrime 181
Identity Theft 182
Intellectual Property and Trade Secret Theft 183
Botnets, Malware, Trojans, and Phishing 184
Data Breach Vulnerabilities 185
Hackers and Their Environment 186
Chapter 8 E-Discovery Responsibilities 189
Data Identification 189
Electronic Discovery Reference Model 190
E-Discovery Stages 192
Common E-Discovery and Foreign Data Challenges 196
Tools, Services, and Technologies 199
Emerging E-Discovery Realities 202
European and Asian Observations 205
Digital Evidence in the Courtroom 207
Chapter 9 The Future 209
Privacy and the Data Ecosystem 209
Access Controls and the Evolution of Trust 211
Global Communications Systems in the Cloud 211
Nanotechnology and Cognitive Computing 212
Digital Demographics and the Emerging Global Citizen 212
Extra-National Investigative Networks and the Information Union 214
Zero Day Forensics 214
Concluding Thoughts 215
About the Author 217
Index 219
See More
ERIK LAYKIN, CHFI, CEDS, is a Managing Director of Duff & Phelps, LLC and was a cofounder of its Global Electronic Discovery and Investigations practice. He focuses on large-scale international corporate investigations and high-stakes litigation issues in which computer forensics and electronic discovery play a major role. Mr. Laykin is frequently appointed as an expert witness, independent neutral, or special master in federal and state courts and has served in an advisory capacity to hundreds of corporations, law firms, and government agencies in the U.S., Asia, and Europe. As an early pioneer in the computer forensics and cybercrime field, he regularly comments on these emerging technology and business issues at industry conferences and for the media, including CNN, Fox, ABC, NBC, CBS, major newspapers, and periodicals. Mr. Laykin is active in a variety of organizations including the HTCIA (High Technology Crime Investigation Association), FEWA (Forensic Expert Witness Association), ABA (American Bar Association), and is a past president (Los Angeles) and Pacific Rim director of the FBI's InfraGard Program.
See More