Trading With Charts for Absolute Returns, (+ Website)
ISBN: 978-0-470-93292-6
226 pages
June 2011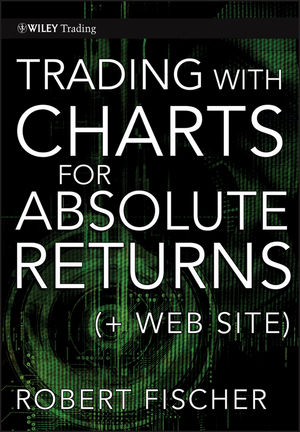 How to use chart patterns to consistently achieve absolute returns
Robert Fischer, a pioneer in developing trading strategies for Fibonacci price and time analysis, has now developed charting analysis that achieve absolute returns in bull, bear, and trendless markets. In Trading with Charts for Absolute Returns, Fischer provides traders with a shortcut from the intensive programming and data analysis work, explaining which patterns work, the best markets to trade using the strategies, and advanced trading signals.
Uncovers the key chart patterns that work best in combination to provide real returns year-after-year and in all markets
Provides an augmented futures strategy for bear markets
Includes exclusive access to the Trading with Charts for Absolute Returns Web site with historical data and trading signals
While relative returns provide a means of judging performance on a comparative basis, as the saying goes, "you can't eat relative returns." Absolute returns is the only thing that matters, and Trading with Charts for Absolute Returns shows how to routinely achieve just that.
See More
Introduction ix
A Note about Performance Results xii
CHAPTER 1 Absolute Return in a Competitive Market Environment 1
Players in Commodity and Stock Markets 1
The Role of Risk in Commodity and Stock Markets 7
Diversification Matters 9
CHAPTER 2 Absolute Return and Methods of Price Analysis 11
Nothing Is Better Than Correct Timing 11
Buy-and-Hold Strategies 14
Benchmarking as an Investment Strategy 14
Fundamental Analysis 15
Technical Analysis 20
CHAPTER 3 Absolute Return and Chart Pattern Recognition 29
Fibonacci Ratios and Clusters 29
Fibonacci and the Elliott Wave Principle 44
Candlestick Chart Patterns 56
3-Point Chart Patterns 64
CHAPTER 4 Absolute Return Results by Trading with Trend Channels and Trend Lines 79
Basic Requirements for Trading on Chart Pattern Recognition 79
Ascending and Descending Trend Lines 85
Trend Channels 96
An Integrated Trading Concept Based on Trend Lines and Trend Channels 113
Advanced Charting Techniques 123
Summary 136
CHAPTER 5 Absolute Return Results by Trading with the PHI-Ellipse 141
The Basic Structure of the PHI-Ellipse 141
What Makes the PHI-Ellipse Such a Special Trading Tool? 146
What Has Been Learned about the PHI-Ellipse Since the Last Book Came Out Seven Years Ago? 148
The Rationale behind PHI-Ellipses as Trading Tools 157
Application of PHI-Ellipses 181
PHI-Ellipses in Combination with Other Fibonacci Trading Tools 190
Exploiting the Forecasting Capabilities of PHI-Ellipses 194
Summary 197
CHAPTER 6 Trading Stocks for Absolute Return 199
Trading a Single Stock 200
Trading a Diversified Portfolio 204
Trading a Diversified Stock Portfolio with the Dax Futures Index as a Trend Indicator 207
Final Remarks 211
About the Companion Web Site 215
Acknowledgments 217
About the Author 219
Index 221
See More
Robert Fischer is President of Fischer Finance Consulting AG, based in Zug, Switzerland. He has designed computer programs for cash currencies, financial futures, stock index funds, energy and metals futures, commodities, mutual funds, and global stock and options portfolios for individuals, banks, and corporations worldwide since the 1980s. For the past thirty years, he has managed commodity funds based on his own proprietary programs that generate trading signals based solely on pattern recognition. His other books include Fibonacci Applications and Strategies for Traders, The New Fibonacci Trader, and Candlesticks, Fibonacci, and Chart Pattern Trading Tools, all published by Wiley.
See More
More in this series

Learn more about