Change Your Gambling, Change Your Life: Strategies for Managing Your Gambling and Improving Your Finances, Relationships, and Health
ISBN: 978-0-470-93307-7
256 pages
March 2012, Jossey-Bass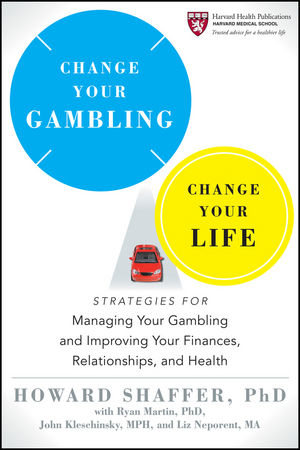 A research-based guide to controlling the destructive urge to gamble
From Howard Shaffer, PhD, a noted expert on gambling addiction, and Harvard Health Publications comes Change Your Gambling, Change your Life, a landmark new book which explains how gambling problems are related to other underlying issues: such as anxiety, mood fluctuation, difficulty with impulse control, and substance abuse problems. Dr. Shaffer offers a series of self-tests to help evaluate the degree of gambling problem and analyze the psychological and social context of the behavior, with specific strategies and approaches for ending the problems with simple tools that anyone can do.
Explains why many people have a problem controlling their urge to gamble and how that can be corrected
Includes a toolbox of resources for anyone who wants to stop the vicious cycle of gambling
Offers advice for avoiding slips and preventing backslides and how to deal with the consequences
With candor and expert advice, Change Your Gambling, Change Your Life provides proven techniques for controlling the urge to gamble.
See More
Preface ix
Acknowledgments xv
Introduction: How to Use Th is Book 1
PART ONE How to Begin 9
1 Assessing Your Problems 11
2 Connecting the Dots 23
3 Setting Goals to Help You Change 29
PART TWO How to Change 41
4 Getting Your Gambling Under Control 43
5 Anxiety and Gambling 69
6 Mood Disorders and Gambling 103
7 Impulse Control and Gambling 127
8 Substance Abuse and Gambling 155
PART THREE How to Stay the Course 187
9 Preventing Relapses 189
Resources and Further Reading 205
References 211
About the Authors 217
About Harvard Medical School 219
Index 221
See More
Howard Shaffer, PhD, a pioneer in the field of gambling addiction, is an associate professor of psychology at Harvard Medical School and the director of the Division on Addiction at the Cambridge Health Alliance. He has an active private practice and consults internationally to a variety of organizations in business, education, human services, law, and government. Ryan Martin, PhD, is an assistant professor in the Department of Health Education and Promotion at East Carolina University. John Kleschinsky, MPH, spent three years at the Cambridge Health Alliance's Division on Addiction and is currently pursuing a DrPH in social and behavioral sciences at the Boston University School of Public Health. Liz Neporent, MA, is an award-winning health and medical journalist who has written fifteen best-selling health titles.
See More