Mastering System Identification in 100 Exercises
ISBN: 978-0-470-93698-6
Paperback
282 pages
April 2012, Wiley-IEEE Press
US $62.95

Add to Cart
This price is valid for United States. Change location to view local pricing and availability.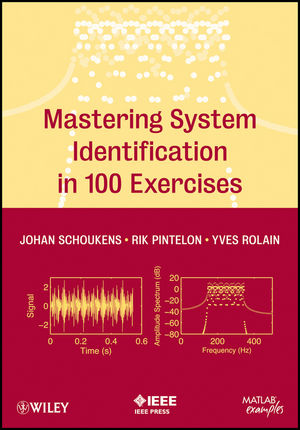 Other Available Formats:
E-book
System identification is a very important topic for both off-line simulation studies and also on-line control applications, in particular for non-linear systems whose parameters change with the operating conditions.
The book "Mastering System Identification in 100 Exercises" does a thorough job of explaining and illustrating the system identification theory and its application in modeling systems for off-line simulation studies. The major emphasis of the book is on frequency domain models, that are well suited for off-line studies, and also as the authors say, "is partly due to the authors' background and experience". A small part of the book is devoted to time-domain modeling.
The one hundred exercises are arranged in 7 Chapters. Chapter 1 provides a basic introduction to the mathematical techniques commonly used in parameter estimation, with the type of signals, random or periodic, introduced in Chapter 2. Measurement of frequency response functions, excitation signals and noise estimation are introduced by the exercises in Chapter 3. With this background, the reader is equipped to estimate the plant and noise dynamics for linear systems in Chapter 4. Noise plays a significant part in estimation practice and a good deal of attention is devoted to noise characterization and estimation. These and related aspects, including the linear approximation of non-linear systems, are extensively covered in the following two chapters, i.e. Chapters 5 and 6. Identification of parameters with non-linearities is illustrated by the exercises in Chapter 7.
The exercises given in the book are supported by solutions using MATLAB programs.
The noise in measurements used to estimate a system model is given a thorough treatment in the book. For a reader not conversant with estimation theory, the book provides a gradual and well organized approach starting from basic to more advanced problem solution.
As mentioned above, on-line system model identification for real-time control is also a very important topic. Such identification, done primarily in time domain, also has the added constraint of limited time for computation in real-time. The standard off-line identification procedures need significant modifications to make them suitable for real-time application. That aspect of system identification is missing from this book as it is primarily devoted to model identification for off-line simulation studies. It would have been desirable to indicate that somehow in the title.
- Professor Om Malik, University of Calgary