iPhone 4 Portable Genius, Verizon Edition
ISBN: 978-0-470-93780-8
336 pages
March 2011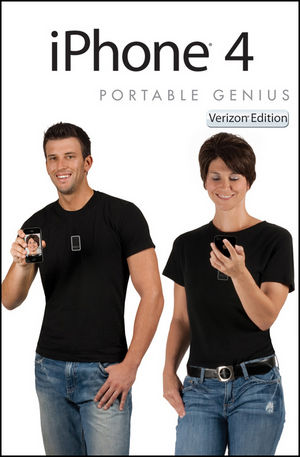 Get the most from the eagerly anticipated iPhone 4, Verizon Edition
Packed with authoritative, no-nonsense advice for getting the most out of your iPhone 4 for the Verizon network, this hip and sophisticated guide addresses the most used and desired features of this exciting device. The author covers the most essential skills, tools, and shortcuts you need to know in order to become savvy and confident for accomplishing any task necessary. Featuring a handy trim size, this guide offers accessible, useful information immediately at your fingertips.
You'll find the hottest tips coupled with savvy advice, and learn how the iPhone 4 for Verizon can act as a WiFi hotspot for up to five devices simultaneously and transform 3G data to WiFi signals for your iPad, laptop, or network.
Shares sophisticated advice for getting the most from your Verizon iPhone 4
Uncovers shortcuts, tips, and tricks on the hottest features of the Verizon iPhone 4
Features a handy trim size that makes this essential resource extremely portable
Couples savvy advice with critical information on everything from playing movies and music to getting confident with uploading and using popular applications
This book offers you an abundance of useful tips and techniques for making the most of your iPhone 4 for the Verizon network.
See More
Acknowledgments.
Introduction.
Chapter 1: How Do I Configure My iPhone?
Chapter 2: How Do I Connect My iPhone to a Network?
Chapter 3: How Can I Get More Out of the Phone App?
Chapter 4: How Can I Make the Most of Web Surfing with My iPhone?
Chapter 5: How Do I Maximize E-mail on My iPhone?
Chapter 6: How Do I Synchronize My iPhone?
Chapter 7: How Can I Get More Out of My iPhone's Audio Features?
Chapter 8: How Do I Max Out the iPhone Photo and Video Features?
Chapter 9: How Can I Use My iPhone to Manage Contacts and Appointments?
Chapter 10: How Do I Use My iPhone to Navigate My World?
Chapter 11: How Do I Manage My eBook Library on My iPhone?
Chapter 12: How Do I Keep My Life In Sync with MobileMe?
Chapter 13: How Do I Fix My iPhone?
Glossary.
Index.
See More
Paul McFedries is a full-time technical writer who has published more than 70 books that have sold more than four millions copies worldwide. These books include: iPad Portable Genius, Macs Portable Genius, and Teach Yourself VISUALLY Macs. Paul encourages all readers to visit his Web site, www.mcfedries.com.
See More