E-book
Guidelines for Evaluating the Characteristics of Vapor Cloud Explosions, Flash Fires, and BLEVEs
ISBN: 978-0-470-93814-0
260 pages
September 2010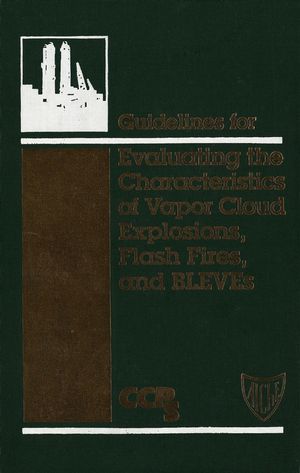 The serious consequences of vapor cloud explosions, flash fires, and BLEVEs are very well known. Better understanding of the characteristics of these phenomena and models to calculate their consequences are key to effective prevention and mitigation. Cited by EPA in its 1996 document, "Off-site Consequence Analysis Guidance, " the first half of the book describes the characteristics of these phenomena and gives an overview of past experimental and theoretical research and methods to estimate consequences. The second part focuses on methods for consequence estimating by presenting sample problems. The entire book is heavily illustrated with photos, charts, tables, and diagrams, and each chapter has a full set of references for additional reading.
See More
Acknowledgments.
A Note on Nomenclature and Units.
Glossary.
1. INTRODUCTION.
2. PHENOMENA: DESCRIPTIONS, EFFECTS, AND ACCIDENT SCENARIOS.
2.1 Vapor Cloud Explosions.
2.2 Flash Fires.
2.3 BLEVEs.
2.4 Historical Experience.
References.
3. BASIC CONCEPTS.
3.1 Atmospheric Vapor Cloud Dispersion.
3.2 Combustion Modes.
3.3 Ignition.
3.4 Blast.
3.5 Thermal Radiation.
References.
4. BASIC PRINCIPLES OF VAPOR CLOUD EXPLOSIONS.
4.1 Overview of Experimental Research.
4.2 Overview of Computational Research.
4.3 Vapor Cloud Explosion Blast Modeling.
4.4 Summary and Discussion.
References.
5. BASIC PRINCIPLES OF FLASH FIRES.
5.1 Overview of Research.
5.2 Flash-Fire Radiation Models.
5.3 Summary and Discussion.
References.
6. BASIC PRINCIPLES OF BLEVEs.
6.1 Mechanism of a BLEVE.
6.2 Radiation.
6.3 Blast Effect of BLEVEs and Pressure Vessel Bursts.
6.4 Fragments.
6.5 Summary and Discussion.
References.
7. VAPOR CLOUD EXPLOSION—SAMPLE PROBLEMS.
7.1 Choice of Method.
7.2 Methods.
7.3 Sample Calculations.
7.4 Discussion.
References.
8. FLASH FIRES—SAMPLE PROBLEMS.
8.1 Method.
8.2 Sample Calculation.
9. BLEVEs—SAMPLE PROBLEMS.
9.1 Radiation.
9.2 Blast Parameter Calculations for BLEVEs and Pressure Vessel Bursts.
9.3 Fragments.
References.
APPENDIX A. VIEW FACTORS FOR SELECTED CONFIGURATION.
A-1 View Factor of a Spherical Emitter (e.g, Fireball).
A-2 View factor of a Vertical Cylinder.
A-3 View Factor of a Vertical Plane Surface.
APPENDIX B. EFFECTS OF EXPLOSIONS ON STRUCTURES.
APPENDIX C. EFFECTS OF EXPLOSIONS ON HUMANS.
C-1 Introduction.
C-2 Primary Effects.
C-3 Secondary Effects.
C-4 Tertiary Effects.
References.
APPENDIX D. TABULATION OF SOME GAS PROPERTIES IN METRIC UNITS.
APPENDIX E. CONVERSION FACTORS TO SI FOR SELECTED QUANTITIES.
APPENDIX F. CASE STUDY OF GAS EXPLOSIONS IN A PROCESS PLANT USING A THREE-DIMENSIONAL COMPUTER CODE.
Index.
See More
The CENTER FOR CHEMICAL PROCESS SAFETY (CCPS), an industry technology alliance of the American Institute of Chemical Engineers (AIChE), has been a world leader in developing and disseminatinginformation on process safety management and technology since 1985. CCPS has published over 80 books in its process safety guidelines and process safety concepts series. For more information, visit www.ccpsonline.org.
See More