Ultra-High Performance Liquid Chromatography and Its Applications
ISBN: 978-0-470-93842-3
304 pages
April 2013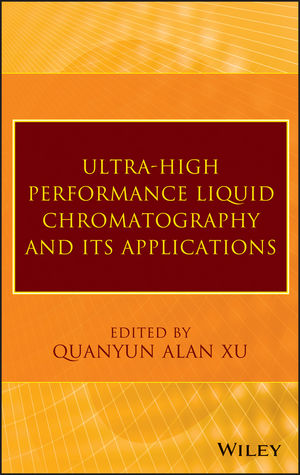 Explores both the benefits and limitations of new UHPLC technology
High performance liquid chromatography (HPLC) has been widely used in analytical chemistry and biochemistry to separate, identify, and quantify compounds for decades. The science of liquid chromatography, however, was revolutionized a few years ago with the advent of ultra-high performance liquid chromatography (UHPLC), which made it possible for researchers to analyze sample compounds with greater speed, resolution, and sensitivity.
Ultra-High Performance Liquid Chromatography and Its Applications enables readers to maximize the performance of UHPLC as well as develop UHPLC methods tailored to their particular research needs. Readers familiar with HPLC methods will learn how to transfer these methods to a UHPLC platform and vice versa. In addition, the book explores a variety of UHPLC applications designed to support research in such fields as pharmaceuticals, food safety, clinical medicine, and environmental science.
The book begins with discussions of UHPLC method development and method transfer between HPLC and UHPLC platforms. It then examines practical aspects of UHPLC. Next, the book covers:
Coupling UHPLC with mass spectrometry
Potential of shell particles in fast liquid chromatography
Determination of abused drugs in human biological matrices
Analyses of isoflavones and flavonoids
Therapeutic protein characterization
Analysis of illicit drugs
The final chapter of the book explores the use of UHPLC in drug metabolism and pharmacokinetics studies for traditional Chinese medicine.
With its frank discussions of UHPLC's benefits and limitations, Ultra-High Performance Liquid Chromatography and Its Applications equips analytical scientists with the skills and knowledge needed to take full advantage of this new separation technology.
See More
Preface vii
Contributors ix
1. UHPLC Method Development 1
Shujun Chen and Alireza Kord
2. Method Transfer Between HPLC and UHPLC Platforms 31
Gregory K. Webster, Thomas F. Cullen, and Laila Kott
3. Practical Aspects of Ultrahigh Performance Liquid Chromatography 55
Naijun Wu, Christopher J. Welch, Theresa K. Natishan, Hong Gao, Tilak Chandrasekaran, and Li Zhang
4. Coupling UHPLC with MS: The Needs, Challenges, and Applications 95
Julie Schappler, Serge Rudaz, Jean-Luc Veuthey, and Davy Guillarme
5. The Potential of Shell Particles in Fast Liquid Chromatography 133
Szabolcs Fekete and Jeno Fekete
6. UHPLC Determination of Drugs of Abuse in Human Biological Matrices 169
Fabio Gosetti, Eleonora Mazzucco, and Maria Carla Gennaro
7. UHPLC in the Analyses of Isoflavones and Flavonoids 197
Sylwia Magiera and Irena Baranowska
8. UHPLC for Characterization of Protein Therapeutics 235
Jennifer C. Rea, Yajun Jennifer Wang, and Taylor Zhang
9. UHPLC/MS Analysis of Illicit Drugs 253
Guifeng Jiang, Jason R. Stenzel, Ray Chen, and Diab Elmashni
10. Ultra-High Performance Liquid Chromatography – Mass Spectrometry and Its Application 271
Zhili Xiong, Ying Deng, and Famei Li
Index 291
See More
QUANYUN ALAN XU, PhD, is a Senior Research Scientist in the Pharmacology and Analytical Laboratory Facility at the University of Texas MD Anderson Cancer Center. Dr. Xu is the coauthor of Analytical Methods for Therapeutic Drug Monitoring and Toxicology as well as more than seventy scientific papers and book chapters.
See More