Mass Spectrometry for Drug Discovery and Drug Development
ISBN: 978-0-470-94238-3
476 pages
January 2013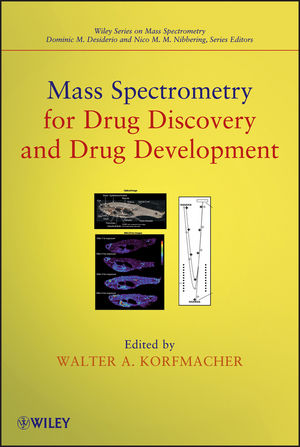 Facilitates the discovery and development of new, effective therapeutics
With coverage of the latest mass spectrometry technology, this book explains how mass spectrometry can be used to enhance almost all phases of drug discovery and drug development, including new and emerging applications. The book's fifteen chapters have been written by leading pharmaceutical and analytical scientists. Their contributions are based on a thorough review of the current literature as well as their own experience developing new mass spectrometry techniques to improve the ability to discover and develop new and effective therapeutics.
Mass Spectrometry for Drug Discovery and Drug Development begins with an overview of the types of mass spectrometers that facilitate drug discovery and development. Next it covers:
HPLC–high-resolution mass spectrometry for quantitative assays
Mass spectrometry for siRNA
Quantitative analysis of peptides
Mass spectrometry analysis of biological drugs
Applications that support medicinal chemistry investigations
Mass spectrometry imaging and profiling
Throughout the book, detailed examples underscore the growing role of mass spectrometry throughout the drug discovery and development process. In addition, images of mass spectra are provided to explain how results are interpreted. Extensive references at the end of each chapter guide readers to the primary literature in the field.
Mass Spectrometry for Drug Discovery and Drug Development is recommended for readers in pharmaceutics, including medicinal chemists, analytical chemists, and drug metabolism scientists. All readers will discover how mass spectrometry can streamline and advance new drug discovery and development efforts.
See More
Contributors ix
Preface xi
1 Overview of the Various Types of Mass Spectrometers that are Used in Drug Discovery and Drug Development 1
Gérard Hopfgartner
2 Utility of High-Resolution Mass Spectrometry for New Drug Discovery Applications 37
William Bart Emary and Nanyan Rena Zhang
3 Quantitative Mass Spectrometry Considerations in a Regulated Environment 55
Mohammed Jemal and Yuan-Qing Xia
4 Mass Spectrometry for Quantitative In Vitro ADME Assays 97
Jun Zhang and Wilson Z. Shou
5 Metabolite Identifi cation Using Mass Spectrometry in Drug Development 115
Natalia Penner, Joanna Zgoda-Pols, and Chandra Prakash
6 MS Analysis of Biological Drugs, Proteins, and Peptides 149
Yi Du, John Mehl, and Pavlo Pristatsky
7 Characterization of Impurities and Degradation Products in Small Molecule Pharmaceuticals and Biologics 191
Hui Wei, Guodong Chen, and Adrienne A. Tymiak
8 Liquid Extraction Surface Analysis (LESA): A New Mass Spectrometry-Based Technique for Ambient Surface Profiling 221
Daniel Eikel and Jack D. Henion
9 MS Applications in Support of Medicinal Chemistry Sciences 239
Maarten Honing, Benno Ingelse, and Birendra N. Pramanik
10 Imaging Mass Spectrometry of Proteins and Peptides 277
Michelle L. Reyzer and Richard M. Caprioli
11 Imaging Mass Spectrometry for Drugs and Metabolites 303
Stacey R. Oppenheimer
12 Screening Reactive Metabolites: Role of Liquid Chromatography–High-Resolution Mass Spectrometry in Combination with "Intelligent" Data Mining Tools 339
Shuguang Ma and Swapan K. Chowdhury
13 Mass Spectrometry of siRNA 357
Mark T. Cancilla and W. Michael Flanagan
14 Mass Spectrometry for Metabolomics 387
Petia Shipkova and Michael D. Reily
15 Quantitative Analysis of Peptides with Mass Spectrometry: Selected Reaction Monitoring or High-Resolution Full Scan? 403
Lieve Dillen and Filip Cuyckens
Index 427
See More
WALTER A. KORFMACHER, PhD, is Director of Bioanalysis at Genzyme, a Sanofi company, and Associate Editor at the Journal of Mass Spectrometry. Previously, he held positions at the FDA's National Center for Toxicological Research, Schering-Plough Research Institute, Merck Research Laboratories, and Medpace Bioanalytical Laboratories. Dr. Korfmacher is an international leader in developing mass spectrometry techniques and strategies for new drug discovery and drug metabolism applications. A 2009 recipient of the CPSA Distinguished Analytical Scientist Award, he has published more than 150 articles in the scientific literature and made more than eighty presentations at various scientific forums.
See More
More in this series