ANTs: Using Alternative and Non-Traditional Investments to Allocate Your Assets in an Uncertain World
ISBN: 978-0-470-94499-8
222 pages
January 2011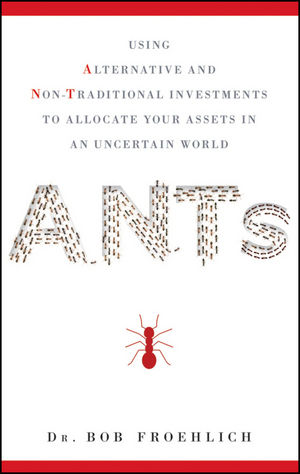 Why alternative and non-traditional investments are no longer just for the wealthy
There was a time when asset allocation was simply about diversification. Today, asset allocation is about both preserving wealth and growing returns regardless of market conditions. They're also a must-have for investors large and small. ANTS: Using Alternative and Non-Traditional Investments to Allocate Your Assets in an Uncertain World shows the average investor how to incorporate ANTs into their portfolio in a substantive way.
Details how the explosion of Exchange-Traded Funds (ETFs) has made it easier than ever for individual investors to incorporate alternative and non-traditional investments into their portfolios
Includes invaluable advice and insights from Dr. Bob, a frequent guest and investor favorite on CNBC, Fox Business, Bloomberg TV, and Reuters TV
Other titles by Dr. Bob: Investment MegaTrends and Where the Money Is, both by Wiley
With the economic crisis and the ever-increasing volatility in the world's financial markets, views on asset allocation have changed. ANTs describes why to incorporate alternative and non-traditional investments into portfolios and details how to easily do it.
See More
Introduction.
The Butterfly Effect.
In This Book.
It's the Little Things.
Chapter 1 The 90 Percent Factor: Why Asset Allocation Matters.
Part One ANTs Come in a Variety of Shapes and Sizes: Eight ANT Asset Classes.
Chapter 2 If You Build It, They Will Come: Investing in Commodities.
Chapter 3 Money Makes the World Go Round: How to Trade Currencies.
Chapter 4 Get Real: Investing in Real Estate.
Chapter 5 The Bridge to Everywhere: Investing in Infrastructure.
Chapter 6 Follow the Bouncing Ball: Using Interest Rate Hedge to Offset Monetary Policy Risk.
Chapter 7 Up, Up, and Away: Using Inflation Hedge to Protect Your Portfolio.
Chapter 8 "Derivatives" Isn't a Dirty Word: Using Derivatives to Reduce Risk.
Chapter 9 Garage Sale Anyone? Investing in Collectibles.
Part Two Advice for ANTs.
Chapter 10 ANTs Go Marching Two by Two: Hiring a Financial Adviser.
Chapter 11 The Axis of Evil: Avoiding the Three Most Common Mistakes.
Chapter 12 ANT Attack: Developing Your ANTs Portfolio.
Appendix ANTSpeak: A Unique Glossary of Alternative and Non-Traditional Investment Terms (Opinions Included).
Acknowledgments.
About the Author.
Other Investment Books by Dr. Bob Froehlich.
How to Follow Dr. Bob: Weekly Market Commentary.
Index.
See More
ROBERT J. FROEHLICH is an executive vice president and chief investment strategist at The Hartford. Froehlich has over thirty years of Wall Street and Main Street experience. Known as "Dr. Bob" to many, he is highly regarded as an investment expert and has delivered speeches on investing in 107 different countries, as well as in all fifty states. Dr. Bob regularly appears on CNBC, Fox News, CNN, Fox Business, Bloomberg TV, and Reuters TV, and has been frequently quoted in the Wall Street Journal, New York Times, and Barron's.
See More