E-book
Essentials of Risk Management in Finance
ISBN: 978-0-470-94635-0
224 pages
December 2010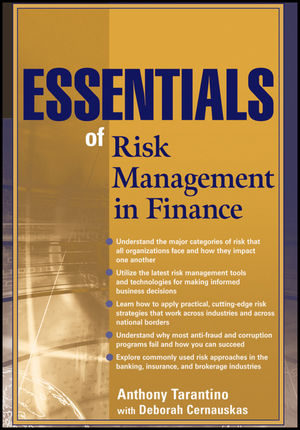 A concise and and easy to follow introduction to financial risk management
This basic survey text offers an accessible introduction to financial risk management, covered in its major components: credit, market, operational, liquidity, legal, and reputational, along with user-friendly processes and tools to conduct your own risk assessments and risk alignments. While there are some mathematical concepts included, these are kept at levels everyone will find easy to grasp.
Provides a comprehensive overview of financial risk management, including credit, market, operational, liquidity, legal, and reputational risk areas
Discusses the latest trends and next generation techniques emerging in financial risk management
Provides risk assessment and risk alignment tools and examples
This book offers a good basic understanding of the major areas of risk exposure that all organizations, both public and private, face in operating in today's complex global marketplace. It provides insights into best practices and next generation techniques for readers entering government, not-for-profit, business, and IT positions in which risk management will play an ever expanding role.
See More
Preface.
Acknowledgments.
1 Introduction to Risk Management.
2 Risk Frameworks and Standards.
3 Conducting Your Own Risk Assessment and Alignment.
4 Six Sigma in Risk Assessments.
5 Operational Risk.
6 Legal Risk.
7 Financial Crimes—Fraud and Corruption.
8 Internal Control Risks.
9 Environmental and Product Risks—Sustainability.
10 Data Governance and Risk.
11 Market Risk—From Value at Risk to Black Swans.
12 Volatility, Risk Aversion, and Portfolio Management.
13 Credit Risk.
14 Corporate Governance and Compensation.
15 Faith-Based Risk Management—Shariah.
16 Reputational Risk.
17 Liquidity and Solvency: Enterprise-Ending Risks.
Appendix: Links to Risk and Compliance Organizations, Standards, and Frameworks.
Index.
See More
Dr. Anthony Tarantino
has thirty years of experience in risk management, regulatory compliance, and business transformation on both the consulting and business sides. He became a Six Sigma Master Black Belt in 2010 and a Certified SOX Pro in 2008. He has written articles for
Journal of Operational Risk
, the Institute of Industrial Engineers,
Accounting Today
, the
Cutter IT Journal
, and the Institute of Supply Management (ISM); is author or coauthor of five professional and academic texts; and is a frequent keynote speaker and workshop leader at U.S. and international conferences.
Dr. Deborah Cernauskas is the Dean of the Business School at Colorado Technical University and a former risk management consultant for IBM. She has taught finance at both the graduate and undergraduate levels at several Chicago universities, including Northern Illinois University. Her multifaceted industry experience includes corporate development, operational finance, market research, and commodities trading research.
See More