E-book
Your Church in Rhythm: The Forgotten Dimensions of Seasons and Cycles
ISBN: 978-0-470-94723-4
224 pages
January 2011, Jossey-Bass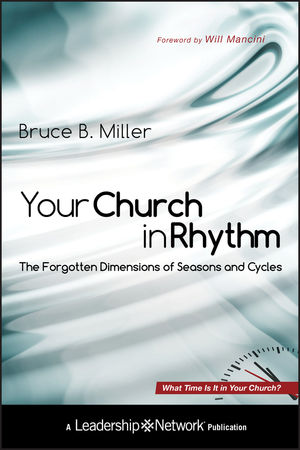 A gentle new way for church leader's to survive stress and burnout
Bruce Miller debunks the idea of balance—basically trying to have it all, all the time. Most churches and their pastors try to do everything at once and feel guilty if any one aspect (worship, ministries, outreach, etc.) is neglected. He replaces the exhausting concept of balance with the idea of rhythm: churches, like people, need to give attention to different programs and ministries at different times, basically by attending to their seasons and cycles.
Offers an innovative new model for church leaders
Miller has been influential in the formation and promotion of "Church-Based Training" as in international movement
Offers a proven method for avoiding burnout for church leaders and members by doing the right things at the right time
The author offers much-need help to overwhelmed leaders and shows them how to apply Miller's seasonal/cyclical approach to church life.
See More
About the Jossey-Bass Leadership Network Series ix
Foreword by Will Mancini xi
Preface xiii
Acknowledgments xv
Introduction Time: Th e Forgotten Dimension xvii
PART ONE Identifying What Time It Is in Your Church 1
1 Why Do Church in Rhythm? 3
2 Kairos and Chronos Rhythms 17
3 Discerning Your Organizational Stage 27
4 Recognizing Your Ministry Seasons 45
PART TWO Kairos Rhythm Strategies 57
5 Release Expectations 59
6 Seize Opportunities 73
7 Anticipate What's Next 91
PART THREE Chronos Rhythm Strategies 107
8 Pace Your Church 109
9 Build Mission-Enhancing Rituals 123
10 Oscillate Intensity and Renewal 139
Conclusion Rhythm Solution Process for Your Church 155
Discussion Questions 165
Rhythm Overview 169
Notes 171
References 177
The Author 181
Index 183
See More
Bruce B. Miller
is the founding and senior pastor of Christ Fellowship, formerly named McKinney Fellowship Bible Church, near Dallas, Texas. He also founded the Center for Church Based Training (CCBT) where he served for eleven years as the chairman of the board of directors. He speaks at conferences and seminars in the United States and other countries, including Mexico, China, Switzerland, Austria, and Germany.
Leadership Network, a division of OneHundredX, seeks to accelerate the impact of 100X leaders. Since 1996, Leadership Network Publications has presented thoroughly researched and practical concepts from leading thinkers, practitioners, and pioneering churches. www.leadnet.org
See More
More in this series