Good Derivatives: A Story of Financial and Environmental Innovation
ISBN: 978-0-470-94973-3
Hardcover
640 pages
April 2012
US $45.00

Add to Cart
This price is valid for United States. Change location to view local pricing and availability.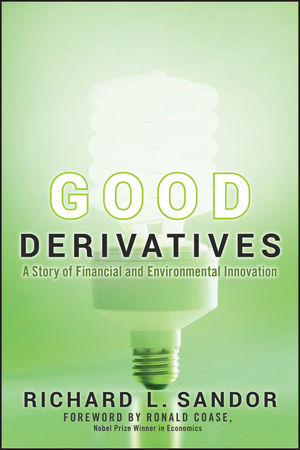 Other Available Formats:
E-book
April 02, 2012
Richard Sandor Talks Sense About Financial Innovation
Connect with Wiley Publicity
Renowned financial innovator Dr. Richard Sandor gives a personal, first-hand account of the creation and expansion of financial futures and environmental markets worldwide in Good Derivatives: A Story of Financial and Environmental Innovation (Wiley; ISBN: 9780470949733; Hardcover & E-Book; $45; April 2012). The foreword is written by Nobel Laureate in Economics Ronald Coase.
Widely regarded as the father of financial futures and named by TIME magazine the "father of carbon trading," Sandor takes on the issues of financial innovation at a time of public distrust of derivatives and a vigorous debate among policy makers about financial markets' role in the global economy.
In Good Derivatives, Sandor uses his personal experience in the global markets to tell the story of how financial innovation has been a positive force in the last four decades. Through the eyes of an inventor of new markets, he explains that if properly designed and regulated, these "good derivatives" can open vast possibilities to address a variety of global problems.
Sandor explains two most common misconceptions when it comes to markets, "One is that markets magically appear. In fact, new markets and products require a lot of hard work, perseverance and collaboration. They are really more like inventions. The other misconception is that all derivatives have been the cause of the great recession of 2008. In fact, some unregulated and opaque markets have caused the troubles we are in. Regulated, transparent exchanges performed flawlessly and none of them required a bailout. This is a story that is never told."
As a young economist at the Chicago Board of Trade, Richard Sandor helped create interest rate futures, a development that revolutionized worldwide finance. Later, he helped pioneer the use of emissions trading to reduce acid rain, one of the most successful environmental programs ever.
Sandor provides unique insights into the process of creating these new financial products. Covering successes and failures, including an attempt to start an all-electronic exchange in the late sixties, the story describes the relentless educational effort that was required to build support for these new inventions in places like Chicago, New York, London, Paris and how their impact is unfolding today in Mumbai, Shanghai and Beijing.
"My career has been in regulated and transparent markets," notes Sandor. "All products I have been involved in have brought more transparency, greater access to capital and, in the case of the environment, measurable reductions and improvements. I hope this book can also be of interest to young entrepreneurs in places like Southeast Asia, Central and South America and Africa."
Good Derivatives leads readers through events leading up to the creation of the Chicago Climate Exchange and its affiliated exchanges (European Climate Exchange, Chicago Climate Futures Exchange and Tianjin Climate Exchange, in China). The lessons learned in these markets can play a critical role in effectively addressing global climate change and other pressing environmental issues.
"Market-based trading systems are a far more effective means of reducing pollutants than 'command-and-control'. Environmental markets may ultimately help to find solutions to issues such as rainforest destruction, water problems and biodiversity threats," Sandor says.
Sandor also provides both an insightful interpretation of the last forty years in capital and environmental markets and a vision of world finance for the next forty years.
"We have witnessed massive changes and shifts in the futures industry in the last forty years. New products were created, human capital was formed and the futures industry has expanded to new geographies, like China and India," he says. "These new geographies also face challenges in infrastructure and environmental issues. If properly designed and regulated, transparent markets can be a force for economic and social improvement in these countries."
Written in an engaging, narrative style, Good Derivatives will be of interest to practitioners, policy makers, entrepreneurs and general readers who want to better understand the creative process of financial innovation. In the middle of so much distrust of markets, it is also a recipe for how transparent, well-regulated markets can be a force for good in environmental, health, and social areas.