E-book
Built on Values: Creating an Enviable Culture that Outperforms the Competition
ISBN: 978-0-470-94990-0
256 pages
December 2010, Jossey-Bass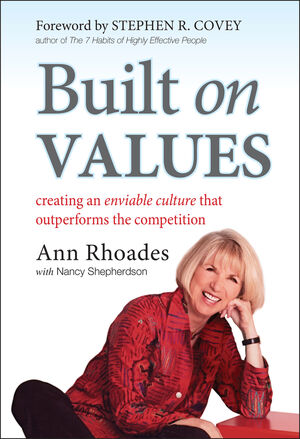 Most leaders know that a winning, engaged culture is the key to attracting top talent—and customers. Yet, it remains elusive
how
exactly to create this ideal workplace —one where everyone from the front lines to the board room knows the company's values and feels comfortable and empowered to act on them.
Based on Ann Rhoades' years of experience with JetBlue, Southwest, and other companies known for their trailblazing corporate cultures, Built on Values reveals exactly how leaders can create winning environments that allow their employees and their companies to thrive. Companies that create or improve values-based cultures can become higher performers, both in customer and employee satisfaction and financial return, as proven by Rhoades' work with JetBlue, Southwest Airlines, Disney, Loma Linda University Hospitals, Doubletree Hotels, Juniper Networks, and P.F. Chang's China Bistros.
Built on Values provides a clear blueprint for how to accomplish culture change, showing:
How to exceed the expectations of employees and customers
How to develop a Values Blueprint tailored to your organization's goals and put it into action
Why it's essential to hire, fire, and reward people based on values alone, and
 How to establish a discipline for sustaining a values-centric culture
Built on Values helps companies get on the pathway to greatness by showing the exact steps for either curing an ailing company culture or creating a new one from scratch.
See More
Foreword, v
by Steven R. Covey
Introduction: Launching a Culture Change the Right Way ix
1 is a values-based culture worth the effort? 1
2 so how's that working for you?": uncover your company's true values 17
3 craft your values blueprint: the foundation of everything 33
4 fill your company with a players: a values-based way to hire 51
5 let your employees impress you: implement a value-centered metrics system 71
6 reward culture change: values as a competitive advantage 91
7 astonish your employees: inspire culture change from the c-suite 111
8 reinforce your values culture: be excessive about communication 129
9 continuous discipline: create a plan for culture maintenance 151
Leader's Toolbox 169
Notes 205
References 211
Acknowledgments 215
About the Authors 219
Index 221
See More
Ann Rhoades is President of People Ink, which helps companies build values-based corporate cultures using the Values Blueprint principles, and CEO of CareLeaders, LLC. She was one of the five founding executives of JetBlue Airways, Chief People Officer for Southwest Airlines, and Executive Vice President of Team Services at Doubletree and Promus Hotel Corporations. Today, she continues to serve on the JetBlue Board of Directors, as well as on the boards of P.F. Chang's China Bistro; HireVue, Inc.; Anderson School of Business at the University of New Mexico; ACCION New Mexico - Arizona - Colorado; and is board chair of Safer New Mexico Now. She lives in Albuquerque, New Mexico.?
Nancy Shepherdson is a freelance journalist who has written more than 500 articles and five books over the past twenty years.
See More