Filipino American Psychology: A Handbook of Theory, Research, and Clinical Practice
ISBN: 978-0-470-95136-1
336 pages
April 2011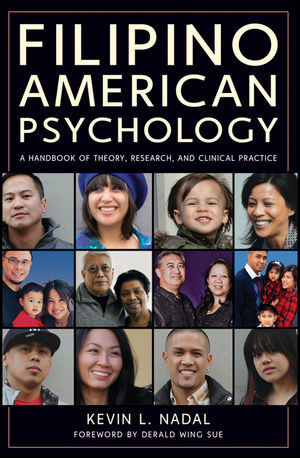 Praise for Filipino American Psychology: A Handbook of Theory, Research, and Clinical Practice
"Filipino American Psychology: A Handbook of Theory, Research, and Clinical Practice is destined to make a major contribution to the field of Asian American psychology and to the larger field of multicultural psychology."
—From the Foreword by Derald Wing Sue, PhD Professor of Psychology and Education, Teachers College, Columbia University
"Dr. Nadal has done a superb job of locating the experiences of Filipino Americans within the larger scholarship on ethnic minority psychology, while also highlighting the complexity, richness, and uniqueness of their psychological experiences. This book should be a part of everyone's library."
—E.J.R. David, PhD Assistant Professor, Department of Psychology, University of Alaska Anchorage
"Ranging from historical contexts to present-day case studies, theoretical models to empirical findings, self-reflection activities to online and media resources, Filipino American Psychology will engage, stimulate, and challenge both novices and experts. Without question, Dr. Nadal's book is a foundational text and a one-stop resource for both the Filipino American community and the community of mental health professionals."
—Alvin N. Alvarez, PhD Professor, San Francisco State University
A landmark volume exploring contemporary issues affecting Filipino Americans, as well as the most successful mental health strategies for working with Filipino American clients
Addressing the mental health needs of the Filipino American population—an often invisible, misunderstood, and forgotten group—Filipino American Psychology provides counselors and other mental health practitioners with the knowledge, awareness, and skills they can use to become effective and culturally competent when working with their Filipino American clients.
Filipino American Psychology begins by looking at the unique cultural, social, political, economic, and mental health needs of Filipino Americans. Noted expert—and Filipino American—Kevin Nadal builds on a foundational understanding of the unique role and experience of Filipino Americans, offering strategies for more effective clinical work with Filipino Americans in a variety of settings.
A must-read for mental health professionals as well as educators and students in the mental health field, Filipino American Psychology is an insightful look at the Filipino American community and the nuances of the Filipino American psyche.
See More
Foreword Derald Wing Sue ix
Preface xiii
Acknowledgments xvii
CHAPTER ONE: Introduction to Filipino American Psychology 1
CHAPTER TWO: Filipino and Filipino American Cultural Values 35
CHAPTER THREE: Racial and Ethnic Identity Development for Filipino Americans 63
CHAPTER FOUR: Colonial Mentality of Filipino Americans 89
CHAPTER FIVE: Filipino American Groups and Communities 109
CHAPTER SIX: Filipino Americans and the Model Minority Myth: Contemporary Experiences in Education, Health, and Society 137
CHAPTER SEVEN: Filipino American Experiences With Gender and Sexual Orientation 161
CHAPTER EIGHT: Multiracial, Multiethnic, and Adopted Filipino Americans 193
CHAPTER NINE: Mental Health Experiences and Psychotherapy With Filipino Americans 225
References 265
Appendix A: Historical References in the Poem "Ikaw" 289
Appendix B: Further Readings and Resources 293
Glossary 297
About the Author 305
Author Index 307
Subject Index 311
See More
Kevin L. Nadal is Assistant Professor in the Department of Psychology at the John Jay College of Criminal Justice where he also serves as the Deputy Director of the Forensic Mental Health Counseling graduate program. Dr. Nadal's research has focused primarily on multicultural issues in psychology, including impacts of racial discrimination and racial/ethnic/sexual identity development on mental health.
See More
"....is a comprehensive handbook that adeptly covers the history, cultural values, racial and ethnic experiences, and mental health needs of Filipino Americans, but more important, provides this information in a thoroughly detailed, yet understandable manner." (
PsycCRITIQUES
, May 30, 2012) "Ranging from historical contexts to present-day case studies, theoretical models to empirical findings, self-reflection activities to online and media resources – Filipino American Psychology will engage, stimulate and challenge both novices and experts. Without question, Dr. Nadal's book is a foundational text and a one-stop resource for both the Filipino American community and the community of mental health professionals."
—
Alvin N. Alvarez
, Ph.D., Professor, San Francisco State University
"Dr. Nadal has done a superb job of locating the experiences of Filipino Americans within the larger scholarship on ethnic minority psychology, while also highlighting the complexity, richness, and uniqueness of their psychological experiences. This book should be a part of everyone's library."
—E.J.R. David, Ph.D., Assistant Professor, University of Alaska Anchorage
See More
"
Filipino American Psychology: A Handbook of Theory, Research, and Clinical Practice
is destined to make a major contribution to the field of Asian American psychology and to the larger field of multicultural psychology."
—From the Foreword by
Derald Wing Sue
, PhD Professor of Psychology and Education, Teachers College, Columbia University
"Ranging from historical contexts to present-day case studies, theoretical models to empirical findings, self-reflection activities to online and media resources – Filipino American Psychology will engage, stimulate and challenge both novices and experts. Without question, Dr. Nadal's book is a foundational text and a one-stop resource for both the Filipino American community and the community of mental health professionals."
—Alvin N. Alvarez, Ph.D., Professor, San Francisco State University
"Dr. Nadal has done a superb job of locating the experiences of Filipino Americans within the larger scholarship on ethnic minority psychology, while also highlighting the complexity, richness, and uniqueness of their psychological experiences. This book should be a part of everyone's library."
—E.J.R. David, Ph.D., Assistant Professor, University of Alaska Anchorage
See More