E-book
Secrets of the Canadian Real Estate Cycle: An Investor's Guide
ISBN: 978-0-470-95269-6
304 pages
January 2012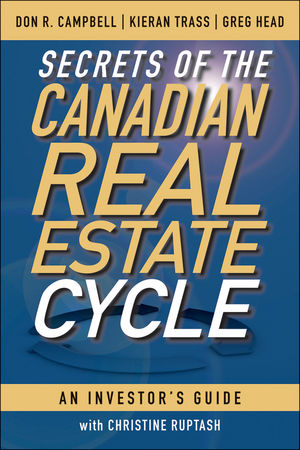 Canadian real estate investors often hear about real estate cycles, yet very few people can describe what they are and how to actually use them to one's advantage.
The Canadian Investor's Guide to Secrets of the Real Estate Cycle
will show Canadian investors the ins and outs of the various phases of the real estate cycle, such as boom, slump and recovery, in order to equip them with the knowledge to make practical and informed decisions about their portfolios.
Written by Canada's top-selling real estate investor and author Don Campbell and Kieran Trass, a leading expert on real estate cycles, the book will drill down into the various causes that affect real estate trends, such as local and global economics, population migration, employment levels, affordability of rental housing, real estate listings and other factors, to provide a scientific basis for assessing current trends and where those trends are heading. Complete with charts, checklists, and real-life stories, The Canadian Investor's Guide to Secrets of the Real Estate Cycle will be an indispensable guide for all investors.
See More
Introduction
Part I Key Message: The Real Estate Cycle: Your Key to Strategic Investing 5
Chapter 1: The Strategic Investor Mindset 9
Chapter 2: What Is the Real Estate Cycle? 19
Chapter 3: Market Predictability and the Real Estate Cycle Clock 31
Chapter 4: Key Drivers of the Real Estate Cycle 37
Chapter 5: Beware the Market Influences of the Real Estate Cycle 49
Chapter 6: The Boom Phase 65
Chapter 7: The Slump Phase 81
Chapter 8: The Recovery Phase 91
Part II Key Message: Putting the Real Estate Cycle to Work in the Canadian Market 99
Chapter 9: Critical Transition Points: Toronto--Boom to Slump 105
Chapter 10: The Toronto Market: Focus on Key Drivers 119
Chapter 11: Critical Transition Points: Calgary--Slump to Recovery to Boom 133
Chapter 12: The Calgary Market--From Hindsight to Foresight 145
Part III Key Message: Learn the Strategic Real Estate Investor Way 159
Chapter 13: Setting Goals like a Strategic Real Estate Investor 165
Chapter 14: The ABC Strategy: How Strategic Investors Plan for the Real Estate Cycle 179
Chapter 15: Investments Tactics throughout the Cycle 185
Chapter 16: Tactics and Risk Management 205
Chapter 17: Tactics and Financing 217
Part IV Key Message: Canadian Strategic Real Estate Investors 227
Chapter 18: Investor Profile: Michael Lawson 231
Chapter 19: Investor Profile: Byron Howard 239
Chapter 20: investor Profile: Tony and Jo-Ann Peters 247
Chapter 21: investor Profile: Chris Black 257
Chapter 22: Are You a Strategic Real Estate Investor? 265
Appendix: The Key Driver Scorecard 269
Acknowledgements 270
About the Authors 272
Other Contributors 277
Index 284
See More
Don R. Campbell
is the author of the Canadian bestseller
Real Estate Investing in Canada 2.0
, a book that provides indispensable advice to real estate investors. The creator and advocate of the Authentic Canadian Real Estate System, Campbell is president of the Real Estate Investment Network(REIN). REIN membership exceeds 3,500 successful Canadian investors whose investment in Canadian residential real estate tops $3.3 billion.
Please visit www.DonRCampbell.com for Don's latest research and analysis of the cycles, his seminar schedule and information on REIN.
Keiran Trass is an international real estate cycle expert who has extensively researched and applied his methodology on cycles for over two decades. His investment company, Hybrid Group, is based in New Zealand and specializes in residential real estate.
For mentoring inquiries, public speaking engagements and research assignment requests, contact: Keiran@TellMeTheTime.com.
Greg Head is an IT executive, whose passion for investing in real estate has allowed him to create a successful porfolio of residential and commercial properties. His investing expertise and knowledge of real estate cycles has made him a sought-after speaker at real estate events across Canada.
Christine Ruptash is the president of Strategic Real Estate Solutions, a private investment firm that focuses on residential real estate.
For information on Greg's speaking engagements or to contact Christine about investment opportunities please visit www.strategicrealestatesolution.ca.
See More