Textbook
Towards Rethinking Brazil: A Thematic and Regional Approach
ISBN: 978-0-470-95810-0
August 2011, ©2011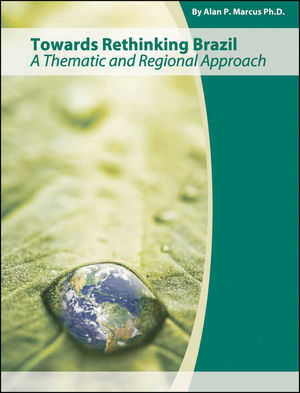 As Brazil enters a new age and becomes an increasingly important regional and global participant, geographer Alan P. Marcus provides important and updated insights in his new book on this multifaceted country. He draws from multi-disciplinary approaches to explain key inter-relationships between regional, historical, and sociocultural elements which have shaped, and shape Brazil. Divided into three parts (thematic, regional, and case studies), Marcus offers various strategies to help understand the intersections between the physical and human geographies of Brazil. With a total of eight chapters, recent photos, graphs, maps, data from the Brazilian Census 2010, and three case studies, this book will be of interest to university students and faculty who are interested in Brazil and/or Latin American studies. Broadly-speaking, this book will also interest any reader who is interested in Brazil – especially since the collection of updated information in this format is not currently available anywhere else in the English language.
See More
Preface 7
PART I THEMATIC FOCUS 11
Introduction 13
Chapter 1 Historical Dimensions 25
Chapter 2 Immigration to Brazil 39
Veja teens 47
PART II REGIONAL FOCUS 49
Chapter 3 Regional Complexities 51
Chapter 4 Human Geographies 69
Chapter 5 Cultural Landscapes 81
Brazzil Orson Welles 97
PART III CASE STUDIES 99
Chapter 6 Theatre of Contestation in Brazilian Amazonia 101
Chapter 7 The Jeito and Gersons Law 111
Brazzil Caiçaras and Paulistas 123
Chapter 8 The Connections between Politics, Migration, Religion,
and Brazil's Mineral Wealth in Goiás and Minas Gerais 125
Brazzil Northeasterners get no respect 143
BIBLIOGRAPHY 145
See More
Alan P. Marcus is an assistant professor at the Department of Geography and Environmental Planning at Towson University, (Maryland, USA). His research on Brazilian transnational migration processes and Brazilian geography has been published in various U.S. and Brazilian academic journals and book-chapters.
See More