Phloem: Molecular Cell Biology, Systemic Communication, Biotic Interactions
ISBN: 978-0-470-95860-5
368 pages
November 2012, Wiley-Blackwell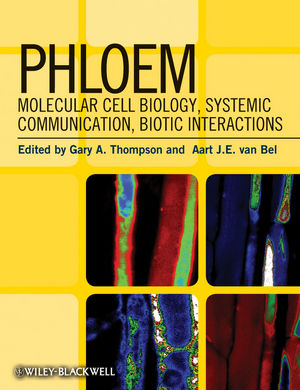 Phloem: Molecular Cell Biology, Systemic Communication, Biotic Interactions is a timely collection of research on the cellular and molecular biology of this plant vascular tissue. Recent advances in phloem research have revealed the centrality of this plant tissue to whole plant development and physiology. Building on advances made through developments of new analytical technologies, this book will provide readers with a current and comprehensive reference on the role of phloem in plant growth and development. Collecting the work of a global team of leading researchers, Phloem will provide the reader with a valuable synthesis of the latest research in a single volume.
See More
Contributors vii
Section A Introduction 1
Chapter 1 Phloem, the Integrative Avenue 3
Aart J.E. van Bel and Gary A. Thompson
Chapter 2 Cell Biology of Sieve Element–Companion Cell Complexes 8
Rosemary G. White
Chapter 3 Fundamentals of Phloem Transport Physiology 30
John W. Patrick
Section B Functional Aspects of Structural SE Components 61
Chapter 4 Roles of Plasma Membrane Transporters in Phloem Functions 63
Mechthild Tegeder, Yong-Ling Ruan, and John W. Patrick
Chapter 5 Regulation of Sucrose Carrier Activities 102
Christina K¨uhn
Chapter 6 Cellular Basis of Electrical Potential Waves along the Phloem and Impact of Coincident Ca2+ Fluxes 122
Jens B. Hafke and Aart J.E. van Bel
Chapter 7 Sieve Element Occlusion 141
Michael Knoblauch and Daniel Mullendore
Section C Long-Distance Signaling 155
Chapter 8 Sieve Elements: Puzzling Activities Deciphered through Proteomics Studies 157
Sylvie Dinant and William J. Lucas
Chapter 9 Endogenous RNA Constituents of the Phloem and Their Possible Roles in Long-Distance Signaling 186
Julia Kehr and Anja Buhtz
Chapter 10 The Effect of Long-Distance Signaling on Development 209
David J. Hannapel
Chapter 11 Plant Defense and Long-Distance Signaling in the Phloem 227
Frank Gaupels and A. Corina Vlot
Section D Biotic Interactions with the Phloem 249
Chapter 12 Role of Phloem Metabolites in Plant Defense 251
Jillian M. Hagel, Akpevwe Onoyovwi, Edward C. Yeung, and Peter J. Facchini
Chapter 13 Viroids and Phloem-Limited Viruses: Unique Molecular Probes of Phloem Biology 271
Lucy R. Stewart, Biao Ding, and Bryce W. Falk
Chapter 14 Phytoplasmas and Spiroplasmas: The Phytopathogenic Mollicutes of the Phloem 293
Allyson M. MacLean and Saskia A. Hogenhout
Chapter 15 Breaching the Sieve Element—The Role of Saliva as the Molecular Interface between Aphids and the Phloem 310
Torsten Will, James C. Carolan, and Thomas L. Wilkinson
Chapter 16 Behavioral and Molecular-Genetic Basis of Resistance against Phloem-Feeding Insects 328
Linda L. Walling and Gary A. Thompson
Index 353
A color page section appears between pages 40 and 41
See More
Gary A. Thompson is the Associate Dean for Research and Graduate Education, Director of the Pennsylvania Agricultural Experiment Station, and Professor of Plant Sciences in the College of Agricultural Sciences at Pennsylvania State University.
Aart J. E. van Bel is Emeritus Professor and Head of the Department of General Botany and former Director of the Botanical Garden at Justus-Liebig-University.
See More