Feed Efficiency in the Beef Industry
ISBN: 978-0-470-95952-7
328 pages
September 2012, Wiley-Blackwell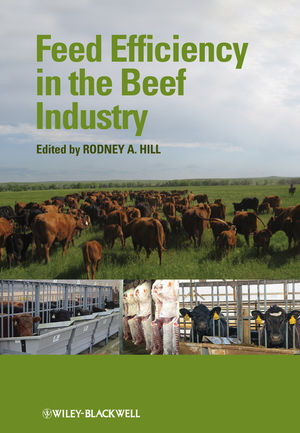 Feed Efficiency in the Beef Industry provides a thorough and concise overview of feed efficiency in beef cattle.  It frames the great importance of feed efficiency to the industry and details the latest findings of the many scientific disciplines that intersect and aim to improve efficient and sustainable production of nutritious beef. The vast majority of production costs are directly tied to feed. With increased demand for grains to feed a rapidly increasing world population and to supply a new demand for alternative fuels, feed costs continue to increase. In recent years, the negative environmental impacts of inefficient feeding have also been realized; as such feed efficiency is an important factor in both economic viability and environmental sustainability of cattle production.
Feed Efficiency in the Beef Industry covers a broad range of topics ranging from economic evaluation of feed efficiency to the physiological and genetic bases of efficient conversion of feed to high quality beef. Chapters also look at how a fuller understanding of feed efficiency is leading to new selective breeding efforts to develop more efficient cattle.
With wide-ranging coverage from leading international researchers, Feed Efficiency will be a valuable resource for producers who wish to understand the complexities, challenges, and opportunities to reduce their cost of production, for students studying the topic and for researchers and professionals working in the beef industry.
See More
Contributors ix
Foreword xi
Preface xiii
Acknowledgments xv
Introduction 1
Rodney A. Hill
Chapter 1 Input Factors Affecting Profitability: a Changing Paradigm and a Challenging Time 7
Jason K. Ahola and Rodney A. Hill
Chapter 2 Measuring Individual Feed Intake and Utilization in Growing Cattle 21
D.H. (Denny) Crews, Jr. and Gordon E. Carstens
Chapter 3 Producer Awareness and Perceptions about Feed Efficiency in Beef Cattle 29
J.D. Wulfhorst, Stephanie Kane, Jason K. Ahola, John B. Hall, and Rodney A. Hill
Chapter 4 Feed Efficiency in Different Management Systems: Cow-Calf and in the Feedyard 47
Keela M. Retallick and Dan B. Faulkner
Chapter 5 Lessons from the Australian Experience 61
Robert M. Herd and Paul F. Arthur
Chapter 6 Nutrition and Feed Efficiency of Beef Cattle 75
Monty S. Kerley
Chapter 7 Genetic Improvement of Feed Efficiency 93
Paul F. Arthur and Robert M. Herd
Chapter 8 Feed Efficiency and Animal Robustness 105
Wendy M. Rauw
Chapter 9 Interactions with Other Traits: Reproduction and Fertility 123
John A. Basarab, Carolyn Fitzsimmons, C. Scott Whisnant, and Robert P. Wettemann
Chapter 10 Feed Efficiency Interactions with Other Traits: Growth and Product Quality 145
Rodney A. Hill and Jason K. Ahola
Chapter 11 Estimating Feed Efficiency of Lactating Dairy Cattle Using Residual Feed Intake 159
Erin E. Connor, Jana L. Hutchison, and H. Duane Norman
Chapter 12 Muscle and Adipose Tissue: Potential Roles in Driving Variation in Feed Efficiency 175
Cassie M. Welch, Marcus McGee, Theresa A. Kokta, and Rodney A. Hill
Chapter 13 Epigenetics and Effects on the Neonate That May Impact Feed Efficiency 199
Allison M. Meyer, Joel S. Caton, Bret W. Hess, Stephen P. Ford, and Lawrence P. Reynolds
Chapter 14 Hormonal Regulation of Feed Efficiency 225
Michael E. Davis, Macdonald P. Wick, and Martin G. Maquivar
Chapter 15 Variation in Metabolism: Biological Efficiency of Energy Production and Utilization That Affects Feed Efficiency 251
Walter G. Bottje and Gordon E. Carstens
Chapter 16 Modeling Feed Efficiency 275
Roberto Sainz
Index 287
See More
Rodney A. Hill, Department of Animal and Veterinary Sciences, University of Idaho, leads the Growth Physiology program in the department.
See More