Polyploid and Hybrid Genomics
ISBN: 978-0-470-96037-0
384 pages
June 2013, Wiley-Blackwell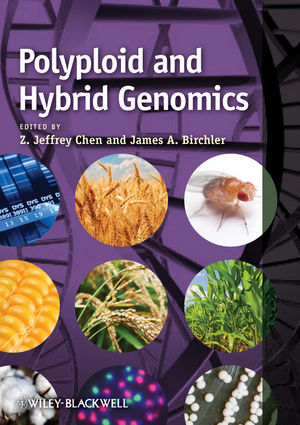 Polyploidy plays an important role in biological diversity, trait improvement, and plant species survival. Understanding the evolutionary phenomenon of polyploidy is a key challenge for plant and crop scientists. This book is made up of contributions from leading researchers in the field from around the world, providing a truly global review of the subject. Providing broad-ranging coverage, and up-to-date information from some of the world's leading researchers, this book is an invaluable resource for geneticists, plant and crop scientists, and evolutionary biologists.
See More
Contributors
Preface
Section I Genomics of Hybrids
1 Yeast Hybrids and Polyploids as Models in Evolutionary Studies
Avraham A. Levy, Itay Tirosh, Sharon Reikhav, Yasmin Bloch, and Naama Barkai
Introduction
Experimental Advantages of Budding Yeasts
Yeast Hybrids
Yeast Polyploids
Paleopolyploidy and Duplicated Genes Retention
Ploidy and Evolution—Theory and Experiments
Genomic Response to Polyploidy and Hybridity
Yeast Hybrids as a Tool for Studying Genomic Regulation
Conclusions
Acknowledgments
References
2 Transcriptome Profiling of Drosophila Interspecific Hybrids: Insights into Mechanisms of Regulatory Divergence and Hybrid Dysfunction
Jos´e M. Ranz, Shu-Dan Yeh, Kevin G. Nyberg, and Carlos A. Machado
Introduction
Gene Expression
Drosophila Hybrids as a Model to Study Transcriptome Divergence
Outlook
References
3 cis- and trans-Regulation in Drosophila Interspecific Hybrids
Joseph D. Coolon and Patricia J. Wittkopp
Introduction
Distinguishing between cis- and trans-Regulatory Changes Using eQTL, GWAS, and ASE
Methods Used to Quantify ASE
Studies of cis- and trans-Regulation in Interspecific Hybrids of Drosophila
Insights into Regulatory Evolution
cis- and trans-Regulatory Evolution in Drosophila: A Look Ahead
References
4 Gene Expression and Heterosis in Maize Hybrids
Mei Guo and J. Antoni Rafalski
Introduction
Gene Expression in Maize Hybrids—Transcript Abundance Relative to Inbred Parents
Allele-Specific Gene Regulation in the Maize Hybrid
Modes of Gene Regulation in the Hybrid
Genetic and Structural Diversities That Contribute to Regulatory Variation
Understanding Heterosis—Various Models
Perspectives
Acknowledgments
References
5 Integrating "Omics" Data and Expression QTL to Understand Maize Heterosis
Camille Rustenholz and Patrick S. Schnable
Introduction
Experimental Design and eQTL Analysis
eQTL and the Mechanisms Underlying Gene Regulation
Building Networks and Integrating "omics" to Understand How Variants, in Particular eQTL, Can Result in Phenotypic Variation
Conclusion and Future Prospects
Acknowledgments
References
6 Genomics and Heterosis in Hexaploid Wheat
Zhongfu Ni, Yingyin Yao, Huiru Peng, Zhaorong Hu, and Qixin Sun
Introduction
Genetic Dissection of Wheat Heterosis
Transcriptome and Proteome Analysis between Wheat Hybrids and Parents
Some Differentially Expressed Patterns are Correlated with Wheat Heterosis
Function Analysis of Differentially Expressed Genes between Wheat Hybrids and Their Parental Lines
Possible Regulatory Mechanism Contributing to Differential Gene Expression in Wheat
Physiological Basis of Heterosis for Grain Yield in Wheat
Concluding Remarks
Acknowledgments
References
7 Progress of Genomics and Heterosis Studies in Hybrid Rice
Lei Zhang, Yonggang Peng, Yang Dong, Hongtao Li, Wen Wang, and Zhen Zhu
Introduction
Progress in the Study of Rice Genomics
Heterosis and Transcriptomics in Hybrid Rice
Epigenetic Modification and Heterosis in Hybrid Rice
Molecular Mechanism behind Heterosis
Perspectives
Acknowledgments
References
8 Heterosis: The Case for Single-Gene Overdominance
Katie L. Liberatore, Ke Jiang, Dani Zamir, and Zachary B. Lippman
Introduction
Understanding Hybridization: Natural Phenomenon to Genetic Mystery
Hybrid Vigor versus Heterosis
Inbreeding Depression and Heterosis in Breeding
Hypotheses on the Genetic Basis of Heterosis
Overdominance and Quantitative Genetics
Cases for Single-Gene Overdominance
Dosage: An Evolving Heterosis Model
Conclusion
Acknowledgments
References
Section II Genomics of Polyploids
9 Genomics and Transcriptomics of Photosynthesis in Polyploids
Jeremy E. Coate and Jeff J. Doyle
Introduction
Polyploidy and Photosynthesis
Evolutionary Trajectories of Duplicated Photosynthetic Genes
Transcriptomic Responses to Allopolyploidy in Relation to Photosynthesis
Polyploidy and Photoprotection
Conclusions
Acknowledgments
References
10 Chromosomal and Gene Expression Changes in Brassica Allopolyploids
Eric Jenczewski, A.M. Ch`evre, and K. Alix
Introduction
Recurrent Polyploidy in the Brassicaceae and the Brassiceae
Chromosomal Changes in Natural and Synthetic Brassica Polyploids
Gene Expression Changes
Impact on the Phenotype
Conclusion and Perspectives
Acknowledgments
References
11 Dynamics of Duplicated Gene Expression in Polyploid Cotton
Keith L. Adams and Jonathan F. Wendel
Origin of Polyploid Gossypium
Homoeologous Gene Expression
Developmental and Environmental Effects on Homoeologous Gene Expression
Global Genome Biases in Homoeologous Gene Expression
Temporal Dynamics of Duplicate Gene Expression Evolution
Proteomic Studies
Why Is Gene Expression Altered in Cotton Allopolyploids and Hybrids?
Acknowledgments
References
12 Reprogramming of Gene Expression in the Genetically Stable Bread Allohexaploid Wheat
Dominique Arnaud, Houda Chelaifa, Joseph Jahier, and Boulos Chalhoub
Importance of Polyploidy and the Wheat Polyploid Model
Structural Changes That Follow Wheat Allopolyploid Formation
Transposable Element Modifications
Reprogramming of Gene Expression in Allohexaploid Wheat
Concluding Remarks
References
13 Nucleocytoplasmic Interaction Hypothesis of Genome Evolution and Speciation in Polyploid Plants Revisited: Polyploid Species-Specific Chromosomal Polymorphisms inWheat
Bikram S. Gill and B. Friebe
Introduction
Nucleocytoplasmic Interaction Hypothesis of Genome Evolution and Speciation
Evidence for Adverse Nucleocytoplasmic Interactions and a Bottleneck Chromosomal Change, Restoring Fertility and Cytoplasmic–Nuclear Compatibility in an Alloplasmic Wheat–Elymus Hybrid
Chromosomal Polymorphisms during Wheat Speciation by Polyploidy, Adaptive Radiation, and Domestication-Driven Evolution
Future Outlook
Acknowledgments
References
Section III Mechanisms for Novelty in Hybrids and Polyploids
14 Genes Causing Postzygotic Hybrid Incompatibility in Plants: A Window into Co-Evolution
Kirsten Bomblies
Introduction
Genes Causing Intrinsic Postzygotic Incompatibility in Plants
Functional and Evolutionary Insights
References
15 Meiosis in Polyploids
Graham Moore
Introduction: General Meiotic Process
Premeiotic Chromosome Organization
Chromosome Sorting for Pairing
Distribution of Recombination: Factors Affecting Its Distribution
Sites of Recombination
Barriers to Recombination
Chromosome Pairing Loci in Polyploids
Meiotic Observations Connected with the Ph1 Locus
Ph1 Locus at a Molecular Level
A Model for Ph1 Action
Exploitation of Chromosome Pairing Loci
Acknowledgments
References
16 Genomic Imprinting: Parental Control of Gene Expression in Higher Plants
Peter C. McKeown, Antoine Fort, and Charles Spillane
Introduction: Genomic Imprinting in F1 Seeds
Evidence for Imprinting of MEGs and PEGs
iMEGs and iPEGs with Imprinted Mutant Phenotypes and/or Segregation Patterns
Uniparental Expression of MEGs Caused by Maternal Seed Coat Expression
MEGs or PEGs in F1 Seed due to Deposition of Long-Lived mRNAs from the Gametes
Confirmation of Imprinting through Disruption of an Epigenetic Modifier or
Altered Ploidy Level
Use of Imprinting Control Region: Reporter Fusion Constructs
Allele-Specific Imprinting in Plants
Is Genomic Imprinting Restricted to Seed Endosperm in Plants?
Theories for the Evolution of Genomic Imprinting in Plants
Conclusions
Acknowledgments
References
17 Seed Development in Interploidy Hybrids
Roderick J. Scott, Julia L. Tratt, and Ahmed Bolbol
Introduction
Polyploidy: Causes and Consequences
Hybridization in Plants
Maternal Control of Endosperm Cellularization
References
18 Chromatin and Small RNA Regulation of Nucleolar Dominance
Pedro Costa-Nunes and Olga Pontes
Ribosomal RNA Loci Organization and Transcriptional Regulation
How Epigenetic Modifications Impact Nucleolar Dominance
Regulation of Nucleolar Dominance by Small RNAs
Road Ahead for Nucleolar Dominance Research: Building Up Parallels in rRNA Gene Regulation between Plants and Mammals
References
19 Genetic Rules of Heterosis in Plants
James A. Birchler
Introduction
A Unifying Mechanism
Gene Expression Studies in Hybrids—What Do They Mean?
Mechanistic Propositions
Acknowledgments
References
20 Chromatin and Gene Expression Mechanisms in Hybrids
Guangming He and Xing-Wang Deng
Introduction
Chromatin States and Gene Expression in Plants
Natural Variation of Chromatin States in Plants
Chromatin and Transcriptional Variation in Hybrids
Future Perspectives
Acknowledgments
References
21 Genetic and Epigenetic Mechanisms for Polyploidy and Hybridity
Z. Jeffrey Chen and Helen H. Yu
Introduction
Genome Shock: A Consequence of Genetic and Epigenetic Changes in Allopolyploids
Genetic and Nonadditive Gene Expression Models for Heterosis in Allopolyploids and Hybrids
A Molecular Clock Model on Heterosis in Hybrids and Allopolyploids
cis-Regulation and trans-Regulation of Gene Expression in Related Species and Allopolyploids
Gene Expression Changes and Morphological Evolution in Allopolyploids
Posttranscriptional Regulation in Allopolyploids
Translational Regulation in Allopolyploids
Roles for Small RNAs and Transposons in Hybrid Vigor and Hybrid
Incompatibility
Acknowledgments
References
Index
Color plate section
See More
Z. Jeffrey Chen is the D. J. Sibley Centennial Professor in Plant Molecular Genetics, at the University of Texas at Austin.
James A. Birchler is Curators' Professor of Biological Sciences, Division of Biological Sciences, at the University of Missouri.
See More