The Nurse Practitioner's Guide to Nutrition
ISBN: 978-0-470-96046-2
400 pages
December 2012, Wiley-Blackwell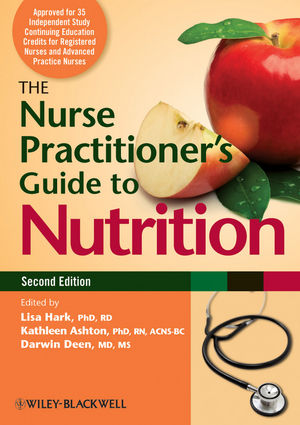 The Nurse Practitioner's Guide to Nutrition is a comprehensive clinical resource for nurse practitioners working in a variety of clinical care settings. Emphasizing practical nutrition information, this accessible guide provides guidance on incorporating nutrition history questions and counselling techniques into routine care across all clinical settings.
The book begins by discussing fundamental concepts in nutrition assessment, giving readers a solid framework from which to approach subsequent chapters. Section Two focuses on nutrition from a lifespan perspective, organizing information by the issues most pertinent to patients at different stages of life. Section Three presents nutrition counselling across clinical care settings ranging from cardiology, endocrinology, oncology, and gastroenterology to caring for the obese patient.
Each chapter includes essential information distilled in quick-access tabular format and clinical scenarios that apply key concepts discussed to real-world examples. Ideal for both in-training and qualified advanced practice nurses, The Nurse Practitioner's Guide to Nutrition is an essential tool for assessing, managing, and treating nutrition-related conditions, as well as promoting nutritional health for all patients.
This activity has been approved for 35 nursing continuing education contact hours through the Temple University College of Health Professions and Social Work Department of Nursing Provider Unit, an approved provider of continuing nursing education by the Pennsylvania State Nurses Association, itself an accredited approver by the American Nurses Credentialing Center's Commission on Accreditation.
For e-book users: CNE materials are available for download after purchase.


This title is also available as a mobile App from MedHand Mobile Libraries. Buy it now from Google Play or the MedHand Store.
See More
About the Editors, vii
Contributors, ix
Section 1 Introduction to Nutrition Concepts, 1
Chapter 1 The Role of Nurse Practitioners, 3
Kathleen C. Ashton
Chapter 2 Nutrition Assessment for Nurse Practitioners, 12
M. Elayne DeSimone and Lisa Hark
Chapter 3 Nutrition Counseling for Effective Behavior Change , 31
Darwin Deen, Virginia Biddle, and Dara Dirhan
Section 2 Nutrition During the Lifespan, 43
Chapter 4 Nutrition from Pre-conception Through Lactation, 45
Amy McKeever, Patricia Digiacomo, Lisa Hark, and Kathleen Larkins
Chapter 5 Nutrition from Infancy Through Adolescence, 79
Susan Breakell Gresko and Bridget S. Sullivan
Chapter 6 Nutrition for Older Adults, 113
Cecilia Borden, Christine Conner, and Lisa Hark
Section 3 Nutrition in the Clinical Setting, 135
Chapter 7 Obesity and Bariatric Surgery Care, 137
Lisa Hark, Darwin Deen, and Dory Ferraro
Chapter 8 Cardiology Care, 160
Frances Burke and Lisa Hark

Chapter 9 Endocrinology Care of the Diabetic Patient, 184
Neva White, Rickie Brawer, and Cheryl Marco
Chapter 10 Digestive Disorders and Gastrointestinal Care, 207
Julie Vanderpool and Beth-Ann Norton
Chapter 11 Renal Care, 235
Jean Stover and Lauren Solomon
Chapter 12 Cancer Prevention and Oncology Care, 261
Tamara B. Kaplan, Maureen Huhmann, and Theresa P. Yeo
Chapter 13 Enteral and Parenteral Nutrition Support, 289
Jennifer M. Dolan, Nancy Sceery, and Nancy Stoner
Appendices, 313
Appendix A: Food Sources of Vitamin A, 315
Appendix B: Food Sources of Vitamin D, 316
Appendix C: Food Sources of Vitamin E, 317
Appendix D: Food Sources of Vitamin K, 318
Appendix E: Food Sources of Vitamin C, 319
Appendix F: Food Sources of Folate, 320
Appendix G: Food Sources of Calcium (Dairy), 321
Appendix H: Food Sources of Calcium (Non-dairy), 322
Appendix I: Food Sources of Sodium, 323
Appendix J: Food Sources of Potassium, 324
Appendix K: Food Sources of Magnesium, 325
Appendix L: Food Sources of Iron, 326
Appendix M: Food Sources of Omega-3 Fatty Acids, 327
Appendix N: Food Sources of Oxalic Acid, 328
Appendix O: Food Sources of Dietary Fiber, 329
Appendix P: Food Sources of Purine, 330
Appendix Q: Therapeutic Lifestyle Changes (TLC) Diet (Low-fat, Low-saturated Fat Diet), 331
Appendix R: DASH Diet, 332
Appendix S: Dietary Reference Intakes (DRIs): Recommended Intakes for Individuals, Vitamins, 333
Appendix T: Dietary Reference Intakes ( DRIs ): Recommended Intakes for Individuals, Elements, 335
Review Questions, 339
Review Answers, 365
Index, 367
Enrollment Form/Answer Sheet, 385
Continuing Education Activity Evaluation Form, 387
See More
Lisa Hark, PhD, RD
is a world renowned nutritionist and best-selling author of nutrition textbooks for health professionals. She is also an Associate Professor at Jefferson Medical College in Philadelphia.
Kathleen Ashton, PhD, ACNS-BC, a sought-after speaker and educator, is a Professor of Nursing at Thomas Jefferson University, Jefferson School of Nursing in Philadelphia.
Darwin Deen, MD, MS
is a respected nutrition educator of health professionals and co-editor of the Complete Guide to Nutrition in Primary Care. He is also a Medical Professor at the Sophie Davis School of Biomedical Education at the City College of New York.
See More
35 continuing education credits redeemable upon completion of the answer form at the end of the book
Written by a multidisciplinary team of authors
Includes information for primary care and specialty settings
A comprehensive text for NP and DNP programs
Includes real-world examples
See More
Learn more about