E-book
Nondigestible Carbohydrates and Digestive Health
ISBN: 978-0-470-96181-0
352 pages
June 2011, Wiley-Blackwell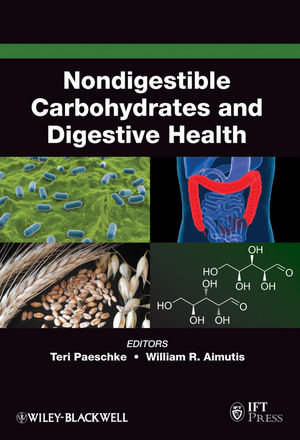 Featuring authors from academia as well as industry, this book provides a broad view of carbohydrates influencing digestive health. Part 1 is a general overview of carbohydrates that function as prebiotics or fermentable carbohydrates. Part 2 is a more in depth examination of specific carbohydrates for digestive health and applications. This book provides an in-depth review and thorough foundation for food scientists, product developers and nutrition scientists seeking to understand the digestive health implications of carbohydrates.
Key features:
Analyzes the most active fields of research currently performed on nondigestible carbohydrates
Focuses on the growing opportunity to deliver digestive health benefits through fibers and other novel carbohydrates
Authors include highly recognized researchers from academe and industry experts
Explores new possibilities in prebiotics and fermentable carbohydrates 
See More
Preface.
Contributors.
Chapter 1 Introduction to Fiber and Nondigestible Carbohydrates: Definition, Health Aspects, and Perspectives (Teri M. Paeschke and William R. Aimutis).
Chapter 2 The Gastrointestinal Tract and its Microflora (William R. Aimutis and Kayla Polzin).
Chapter 3 The Immunomodulatory Effects of Dietary Fiber and Prebiotics in the Gastrointestinal Tract (Marie-Claire Arrieta, Jon Meddings and Catherine J. Field).
Chapter 4 Lower Gut Hormones and Health Effects Associated with Consumption of Fermentable Fibers (Michael J. Keenan, Jun Zhou, Reshani Senevirathene, Marlene Janes and Roy J. Martin). 
Chapter 5 Animal, In Vitro, and Cell Culture Models to Study the Role of Dietary Fibers in the Gastrointestinal Tract of Humans (Trevor A. Faber and George C. Fahey, Jr.).
Chapter 6 Impact of Fiber on Gastrointestinal Microbiota (Koen Venema).
Chapter 7 Fermentable Carbohydrates and Digestive Health (Joanne Slavin). 
Chapter 8 Overview of Dietary Fiber and its Influence on Gastrointestinal Health (Devin J. Rose and Bruce R. Hamaker).
Chapter 9 Toward Second-Generation Carbohydrate Functional Food Ingredients (Robert A. Rastall).
Chapter 10 Whole Grains and Digestive Health (Isabel Bondia-Pons, Jenni Lappi, Emilia Selinheimo, Marjukka Kolehmainen, Hannu Mykk¨anen, and Kaisa Poutanen).
Chapter 11 Fermentability of Polydextrose, Resistant Maltodextrin, and Other Soluble Fibers: Prebiotic Potential (Maria Stewart).
Chapter 12 Development and Evaluation Bimuno­­­®, a Novel Second-Generation Prebiotic Galactooligosaccharide Mixture (George Tzortis).
Chapter 13 Concluding Remarks: Gastrointestinal Health and Nondigestible Carbohydrates (William R. Aimutis and Teri M. Paeschke).
Appendix Nondigestible Carbohydrates: Structure and Sources.
Index.
See More
Teri M. Paeschke
, PhD, has worked for numerous consumer product and ingredient companies in positions ranging from product development to research.  She has worked for PepsiCo, Cargill, Sara Lee Bakery, Nutrasweet, and Kelco.  She has also worked as a consultant for numerous smaller companies. Dr. Paeschke has published several articles regarding ingredient functionality, hydrocolloids, fiber, satiety, and is co-author on numerous patent applications. She has been very active within the carbohydrate division of IFT and the rheology division of AACC.
William R. Aimutis, PhD, serves as Research Fellow for Cargill, Inc.  He is currently the Director for Global Food Research in North America, and previously worked for various food ingredient and consumer packaged goods companies for over 25 years.  Dr. Aimutis is well-published in areas regarding dairy bioactive proteins, intestinal microbial ecology, hydrocolloids, and satiety.  Dr. Aimutis is very active with the Institute of Food Technologists and American Dairy Science Association where he served in several leadership roles, and is a Distinguished Alumnus of Purdue University.
See More
More in this series