Psychobiological Approaches for Anxiety Disorders: Treatment Combination Strategies
ISBN: 978-0-470-97180-2
216 pages
April 2012, Wiley-Blackwell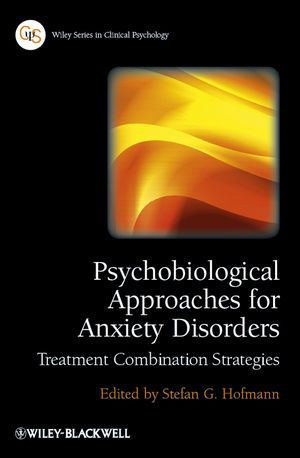 Psychobiological Approaches for Anxiety Disorders
presents a comprehensive overview of the latest empirical evidence and research results on combining pharmacological agents and CBT techniques for the treatment of anxiety disorders.
The first book to focus on the issue of enhancing CBT with pharmacological agents
Features chapters from leading authors in the fields of psychiatry, pharmacology, clinical psychology, neuroscience, and emotion research
Contributes significantly to the field by summarizing the contemporary research in combination treatments in anxiety disorders
A valuable resource for clinicians in training, as well as experienced clinicians seeking to help patients with anxiety disorders
See More
About the Contributors  vii
About the Editor xi
Introduction  1
Stefan G. Hofmann
Chapter 1 The Biology and Efficacy of Combination Strategies for Anxiety Disorders 5
Keith A. Ganasen and Dan J. Stein
Chapter 2 Benzodiazepines  25
Bridget A. Hearon and Michael W. Otto
Chapter 3 Tricyclic Antidepressants and Monoamine Oxidase Inhibitors  41
Franklin R. Schneier
Chapter 4 Selective Serotonin Reuptake Inhibitors, Reversible Inhibitors of Monoamine Oxidase-A, and Buspirone  61
Borwin Bandelow, Markus Reitt, and Dirk Wedekind
Chapter 5 D-Cycloserine   75
Adam J. Guastella and Gail A. Alvares
Chapter 6 Yohimbine Hydrochloride  91
Samantha G. Farris, Michelle L. Davis, Lindsey B. DeBoer, Jasper A. J. Smits, and Mark B. Powers
Chapter 7 Cortisol 109
Leila Maria Soravia and Dominique J.-F. de Quervain
Chapter 8 Oxytocin 123
Markus Heinrichs, Frances S. Chen, and Gregor Domes
Chapter 9 Dietary Supplements 145
Lindsey B. DeBoer, Michelle L. Davis, Mark B. Powers, and Jasper A. J. Smits
Chapter 10 A Roadmap for the Research and Practice of Combination Strategies 181
Stefan G. Hofmann
Index 195
See More
Stefan G. Hofmann is Professor of Psychology at Boston University and the Director of the Psychotherapy and Emotion Research Laboratory. The incoming President of the Association for Behavioral and Cognitive Therapies, he is widely published with more than 200 peer-reviewed journal articles and book chapters, and 10 books, including An Introduction to Modern CBT (2011, Wiley-Blackwell).
See More
More in this series