Mindfulness-integrated CBT: Principles and Practice
ISBN: 978-0-470-97495-7
Paperback
320 pages
April 2011, Wiley-Blackwell
US $51.95

Add to Cart
This price is valid for United States. Change location to view local pricing and availability.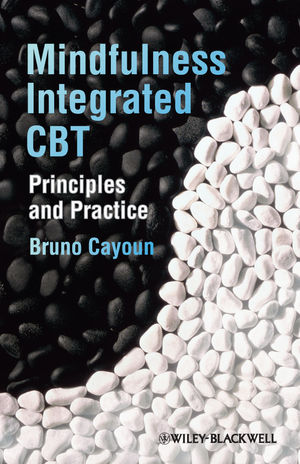 About the Author.
Acknowledgments.
Preface.
Abbreviations.
Introduction.
Three Bases of Learning.
About this Book.
Part I Theoretical Foundation.
1 Operationalization of Mindfulness.
Defi nition of MiCBT.
Case Illustration with Generalized Anxiety Disorder.
Western Understanding of Eastern Conceptualization.
Changes in Western Clinical Psychology.
Summary of Main Points.
2 The Co-emergence Model of Reinforcement: A Rationale for Mindfulness Integration.
Integrating Essential Components of Behavior Change.
Role and Phenomenology of the Four Functional Components.
Widening the Scope of Learning Theory.
A Dynamic Systems Explanation of Intrusive Thoughts.
Maintaining Mental Illness.
Recreating Balance in the System.
Summary of Main Points.
Part II Internalizing Skills.
3 Suitability and Rationale for MiCBT: Practical Guidelines for Therapists.
A Transdiagnostic Assessment.
Contraindications.
Assessing Motivation to Change: A Proposed Script.
Developing and Delivering an Appropriate Rationale.
An Experiential Rationale for Mindfulness with Breathing.
Modeling Acceptance and Equanimity in the 1st Interview.
Summary of Main Points.
4 Stage 1 of MiCBT – Part I: How to Generalize Metacognitive and Interoceptive Exposure.
Set Up.
Relaxation as a Preparatory Measure.
Practice Overview: Description and Operationalization.
Summary of Main Points.
5 Clinical Relevance.
Confounding Factors.
Relaxation and Equanimity.
Summary of Main Points.
6 Stage 1 of MiCBT – Part II: Explaining Difficulties and Facilitating Shifts.
Lost in Thoughts.
Dealing with Pain.
Other Typical Diffi culties.
Promoting Adherence.
Completion of Stage 1.
Summary of Main Points.
Part III Externalizing Skills.
7 Stage 2 of MiCBT: Mindful Exposure and Cognitive Reappraisal.
Aim of Stage 2.
Basic Notion of Graded Exposure in Behavior Therapy.
Exposure in Imagination.
Overcoming Imagery Limitations.
"Bi-polar Exposure."
Basic Notion of Cognitive Restructuring in Cognitive Therapy.
Some Limitations.
The Concept of Irrationality.
Cognitive Reappraisal as a Consequence of Mindfulness.
Re-evaluating the Self-Concept.
Summary of Main Points.
8 Stage 3 of MiCBT: Interpersonal Mindfulness.
Social Identity Theory.
Stage 3 and the Theory of Social Identity.
Using Stages 1 and 2 to Understand Others.
Summary of Main Points.
9 Stage 4 of MiCBT: Relapse Prevention with Grounded Empathy.
Empathy as Part of the MiCBT Model.
Consequences of Mindfulness.
Empathy as a Function of "Egolessness."
Self-Esteem.
Two Bases for Self-Acceptance.
Training in Stage 4.
Reappraising Relapse.
Summary of Main Points.
Part IV The Benefits.
10 MiCBT with DSM-V Axis 1 and Axis 2 Disorders.
Developmental versus Situational Causes of Psychopathology.
Early Cue Detection versus Experiential Avoidance.
Case Example 1: Social Phobia.
Case Example 2: PTSD.
Case Example 3: PTSD and Dysthymic Disorder.
Case Example 4: PTSD and Major Depressive Episode.
Case Example 5: PTSD and Gambling Addiction.
Case Example 6: Chronic Pain.
Case Example 7: Chronic Pain, Chronic Depression, OCD and Panic Disorder with Agoraphobia.
Case Example 8: General Anxiety Disorder, Connective Tissue Disorder and Osteoarthritis.
Case Example 9: Chronic Depression, General Anxiety, Binge Eating and Diabetes.
Case Example 10: Borderline Personality Disorder.
The Issue of Personality.
Summary of Main Points.
11 Evaluation of Mindfulness Training.
Measuring Effi cacy of Mindfulness-based Treatments.
Data Collection: A Non Diagnosis-Specifi c Analysis of MiCBT.
Effects of MiCBT on Health Behavior of People with Type 2 Diabetes.
Mindfulness and Western Therapies.
Summary of Main Points.
Part V Teaching and Training.
12 Weekly Implementation Protocol.
Expected Skills Acquired with the Program.
Contact Hours for the 8- to 12-Week MiCBT Program.
Structure of Facilitator Handouts.
Summary of the 4-Stage Model.
Concluding Comment.
Follow-up Sessions.
Outline for the MiCBT Follow-up Groups.
Summary of Main Points.
13 Professional Training.
The Importance of Therapist Variables.
Effects of Mindfulness on Therapy Outcomes.
The Importance of Professional Training.
Case Example 1: Needle Phobia.
Case Example 2: Pain, Gambling Addiction and Anxiety.
Case Example 3: Pain.
Case Example 4: Distressing Situation.
Case Example 5: ADHD.
Recommendations for Clinicians.
Summary of Main Points.
14 Frequently Asked Questions.
Common Questions about Mindfulness Meditation.
Compatibility with Pharmacotherapy.
Unexplained Experiences with the Practice.
Adherence to Therapy.
Trauma.
Passion.
Pain.
MiCBT for Children.
Conducting Groups.
Contraindications.
Summary of Main Points.
References.
Glossary.
List of Appendices.
Appendix A – Scripts.
Appendix B – Assessment Tools.
Appendix C – Client Forms.
Index.