Beyond the Familiar: Long-Term Growth through Customer Focus and Innovation
ISBN: 978-0-470-97631-9
184 pages
April 2011, Jossey-Bass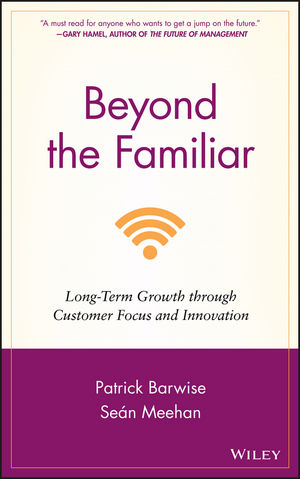 Strong customer-focused companies have a clear, relevant promise which they obsessively deliver day-in, day-out. At the same time, they relentlessly drive the market by evolving the offer in the face of market developments and opportunities. Because they meet customer needs better than the competition, again and again, they are able to generate sustainable, profitable, market-leading organic growth. The problem the book addresses is how to achieve this. The authors identify five key steps using their framework for success:
Offer a clear, relevant customer promise
Build customer trust by reliably delivering that promise
Continuously improve the promise, while still reliably delivering it
Drive the market by innovating beyond the familiar
Support all this with an open organization that promotes frank discussion based on clear facts and market feedback.
Above all the book runs counter to the fashionable claim that the starting-point for business success should be to find a 'blue-sky', 'out-of-the-box' breakthrough innovation. Barwise and Meehan use many compelling cases to illustrate how managers can find ways within their existing network and organization to achieve long term growth.
See More
PREFACE vi
ACKNOWLEDGEMENTS ix
Chapter 1 What Every CEO Wants 1
Chapter 2 Your Promise to the Customer 19
Chapter 3 Delivering Today's Promise Better and Better Every Day 39
Chapter 4 Driving the Market by Relentlessly Improving the Promise 67
Chapter 5 Innovating Beyond the Familiar 93
Chapter 6 Opening Up: What Leaders Must Do 119
POSTSCRIPT 145
END NOTES 151
INDEX 167
ABOUT THE AUTHORS 174
See More
April 28, 2011
Beyond the Familiar: Long-Term Growth through Customer Focus and Innovation
Connect with Wiley Publicity
In Beyond the Familiar, Patrick Barwise (London Business School) and Seán Meehan (IMD) go back to basics: actionable customer insights flowing freely through the firm, leading to relentless customer-focused innovation and an increasingly strong, trusted brand. They place particular emphasis on open organizational culture: "Again and again in our research, we have seen how poor framing, fear, vested interests, complacency, and denial block the free flow and discussion of the market information and ideas that power customer-focused execution and innovation and, ultimately, long-term growth. Open organization is, therefore, at the heart of our framework. "
According to the authors, open organization enables firms to achieve four other imperatives that directly drive sustained growth:
Offer and communicate a clear, relevant customer promise

Build customer trust and brand equity by reliably delivering that promise

Drive the market by continuously improving the promise, while still reliably delivering it

Get further ahead by occasionally innovating 'beyond the familiar'.
To illustrate its message, the book uses a wide range of case studies of both well-known, large companies (Nokia, Motorola, Procter & Gamble, Infosys, Philips) and some smaller, less well known ones such as Research Now (online market research) and Aggreko (world leader in the rental of power supplies and other essential services).
The book has won lavish praise from business leaders. According to Sir Martin Sorrell, CEO of WPP, "The value of Beyond the Familiar lies almost as much in the silver bullet solutions it debunks as in the infinitely wise marketing principles it advocates. In their search for the secrets of consistent growth, Barwise and Meehan distil the experience of others with merciless objectivity. Shareholders could sleep better at nights if every CEO had absorbed their fundamental lessons."
Gary Hamel, recently ranked "the world's most influential business thinker" by the Wall Street Journal, says, "Profitable growth isn't sustainable without relentless, customer-relevant innovation. Lucky for you, Beyond the Familiar is filled with insights and advice on how to make this happen. It's a must-read for anyone who wants to get a jump on the future."
Gerard Kleisterlee, CEO of Philips and recently appointed chairman of Vodafone, comments: "While there is no single recipe for long-term organic growth, Barwise and Meehan provide a very practical framework, illustrated with many real-life examples of both success and failure that will resonate well with any CEO confronted with this eternal challenge. A must read."
See More