E-book
Starting a Business For Dummies, 3rd UK Edition
ISBN: 978-0-470-97834-4
416 pages
March 2011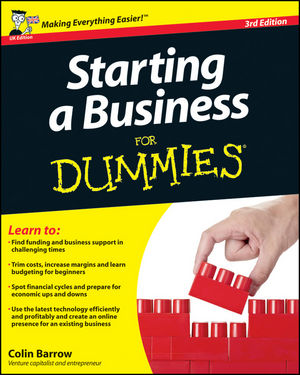 A best-selling guide from British business start-up expert Colin Barrow covering everything budding entrepreneurs need to know to get their business up and running.
Whether you are just starting out, planning a new venture, setting up at home or extending a current business online, this book is all you need to succeed.
In addition to straightforward advice on all the business basics, this new and improved third edition will include fresh content covering the fundamental changes in the UK economy, up-to-date tax and VAT advice, guidance on finance and funding in the new era of British banking and setting up online to help readers make the move from employee to successful entrepreneur.
Starting a Business For Dummies, 3rd Edition features new and updated content on:
Finding funding and business support in challenging times
Trimming costs, increasing margins and budgeting for beginners
Setting-up a home based business
Starting-up online, or creating an online presence for an existing business
Spotting financial cycles and preparing for economic ups and downs
Using the latest technology efficiently and profitably
Entering new markets, finding new products, diversification, forming partnerships and going global
See More
Introduction.
Part I: Getting Started.
Chapter 1: Preparing for Business.
Chapter 2: Doing the Groundwork.
Chapter 3: Can You Do the Business?
Chapter 4: Testing Feasibility.
Part II: Making and Funding Your Plan.
Chapter 5: Structuring Your Business.
Chapter 6: Preparing the Business Plan.
Chapter 7: Getting Help.
Chapter 8: Finding the Money.
Chapter 9: Considering Your Mission.
Chapter 10: Marketing Your Wares.
Part III: Staying in Business.
Chapter 11: Employing People.
Chapter 12: Operating Effectively.
Chapter 13: Keeping Track of Finances.
Chapter 14: Managing Your Tax Position.
Part IV: Making the Business Grow.
Chapter 15: Doing Business Online.
Chapter 16: Improving Performance.
Chapter 17: Exploring Strategies for Growth.
Chapter 18: Becoming a Great Manager.
Part V: The Part of Tens.
Chapter 19: Ten Pitfalls to Avoid.
Chapter 20: Ten People to Talk to Before You Start.
Chapter 21: Ten Ways to Cut Costs.
Chapter 22: Ten Steps to Prepare to Move On.
Index.
See More
Colin Barrow was, until recently, Head of the Enterprise Group at Cranfield School of Management, where he taught entrepreneurship on the MBA and other programmes. He is also a visiting professor at business schools in the US, Asia, France, and Austria. His books on entrepreneurship and small business have been translated into twenty languages including Russian and Chinese. He worked with Microsoft to incorporate the business planning model used in his teaching programmes into the software program, Microsoft Business Planner. He is a regular contributor to newspapers, periodicals and academic journals such as the Financial Times, The Guardian, Management Today, and the International Small Business Journal.
Thousands of students have passed through Colin's start-up and business growth programmes, going on to run successful and thriving enterprises, and raising millions in new capital. He is on the board of several small businesses, is a University Academic Governor, and has served on the boards of public companies, venture capital funds, and on Government Task Forces.
See More