E-book
Management For Dummies, 2nd Edition
ISBN: 978-0-470-97840-5
400 pages
March 2011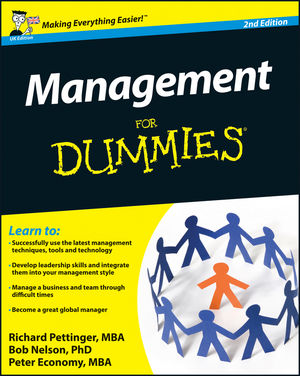 Management For Dummies, 2nd Edition has been updated to include the latest trends in management thinking, updates on management software and technology and includes brand new sections covering globalisation, internationalisation, leadership and managing in difficult times. Written by a team of business professionals with decades of experience, this book is perfect for all levels of managers; new managers and managers-to-be can find everything they need to know to be successful; experienced managers can find tips on shifting their perspectives to take a fresh look at their management philosophies and techniques to make their jobs easier and their employees a lot more effective.


See More
Introduction 1
Part I: So You Want to Be a Manager 7
Chapter 1: You're a Manager – Now What? 9
Chapter 2: Lead, Follow or Get Out of the Way 29
Part II: Managing People 41
Chapter 3: Making the Million-Pound Decision: Recruitment and Selection 43
Chapter 4: Inspiring Employees to Better Performance 61
Chapter 5: Coaching, Mentoring and Development 79
Part III: Making Things Happen 95
Chapter 6: Setting Goals and Targets 97
Chapter 7: Being an Expert at Performance Appraisal and Management 113
Chapter 8: Being an Expert Manager within Your Environment 129
Part IV: Working with (Other) People 141
Chapter 9: Knowing and Understanding Your Stakeholders 143
Chapter 10: Communicating Effectively 155
Chapter 11: Working Together in Teams and Groups 169
Chapter 12: Managing Flexible Workers 183
Part V: Tough Times for Tough Managers 193
Chapter 13: Understanding and Managing Risk 195
Chapter 14: Dealing with Ethics and Office Politics 207
Chapter 15: Managing Change at Work 229
Chapter 16: Setting Standards and Enforcing Them: Employee Discipline 239
Chapter 17: Handling Resignations, Dismissals and Redundancies 255
Part VI: Tools and Techniques for Managing 271
Chapter 18: Budgeting and Accounting 273
Chapter 19: Harnessing the Power of Technology 295
Chapter 20: Formulating Strategies for Being a Global Manager 307
Chapter 21: Keeping Track of Management Trends 319
Part VII: The Part of Tens 333
Chapter 22: Ten Common Management Mistakes 335
Chapter 23: Ten Common Management Myths 341
Chapter 24: Ten Great Ways to Engage Your Employees (and Keep Them Engaged!) 347
Chapter 25: Ten (Plus Two) Classic Business Books You Need to Know About 353
Index 359
See More
Richard Pettinger is a lecturer in Business Management at University College London where he teaches foundation, undergraduate, postgraduate, professional and international courses. Richard is the author of over thirty business and management books including Weekend MBA For Dummies and Competitive Strategy For Dummies. Bob Nelson is the founder of Nelson Motivation, a training and consulting firm. Peter Economy is a management writer and consultant.
See More