E-book
Fixing Britain: The Business of Reshaping Our Nation
ISBN: 978-0-470-97924-2
320 pages
April 2011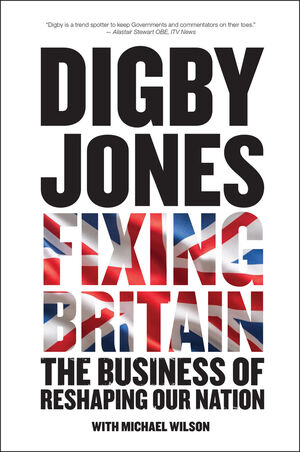 No nonsense solutions from the straight-talking face of British business.
IF FUNDAMENTAL REFORM DOES NOT TAKE PLACE THEN WE ARE DEAD IN THE WATER.
GLOBALISATION DOES NOT TAKE PRISONERS. BRITAIN MUST BECOME FIT FOR PURPOSE IN THE 21ST CENTURY.
This is the explosive, first book from 'the face of British business', Lord Digby Jones. With a renowned, no-nonsense, straight-talking approach, he is one of the world's most acclaimed business commentators.
In his candid and forthright style Fixing Britain puts the spotlight on critical national and international business issues and lays out the essential reform urgently needed for the growth of our nation. Knowledgeable, authoritative and independent, Digby highlights how untenable the status quo is in the UK, and sets out how Britain can get back in – and stay in – the globalised race.
Sending a clear message to government, business leaders, strategists and the media, Fixing Britain explores the effective linkage of change at all levels, from Westminster to education, the public and private sectors, our social cohesion and our sense of common purpose.
Digby is never afraid to say what others are thinking - this is the most explosive examination of the state of British business in years.
See More
1 Five Minutes to Midnight – Time for Change 1
2 The Voice of Business 33
3 The Globe-Trotting Goat – Tethered by Westminster and Whitehall 83
4 Education, Education, Education? 125
5 The World Moves East 159
6 The Business of Politics: Fixing the System 199
7 Taxing Britain Out of Business 233
8 The Gimme Society 265
9 Our Great Britain 287
Acknowledgements 305
Index 306
See More
Lord Digby
Jones
served as Director General of the CBI (Confederation of British Industry, the UK's Voice of Business) from 2000 until 2006. In2006 he became the UK Skills Envoy and in 2007 he was appointed Minister of State for UK Trade & Investment. He did not join the party of government and without ambition to progress in politics he concentrated on the business of promoting Britain across the world, traveling to 31 countries in 45 overseas visits.
Born in Birmingham, Lord Jones originally joined the Royal Navy, before graduating from University College London and joining the law firm Edge & Ellison, rising from Articled Clerk to Senior Partner. In 1998 he joined KPMG as vice-chairman of corporate finance, before taking up his role at the CBI.
In 2005 he was knighted for his services to business and became Sir Digby Jones in The Queen's New Year's Honours List. In 2007 he became a life peer taking the title, Digby, Lord Jones of Birmingham Kt.
Today Lord Jones sits as an active cross-bencher in the House of Lords and is an official United Kingdom Business Ambassador. He speaks regularly to business audiences both in the UK and overseas. He serves in the private sector as Chairman of the international Business Advisory Boards of HSBC and British Airways, a Corporate Ambassador for Jaguar Cars and JCB, and Chairman of Triumph Motorcycles, among a number of pair and unpaid roles.
He holds a number of charity positions, is a non-executive director of Leicester Tigers Rugby and lives with his wife Pat in Marylebone and Warwickshire.
Michael Wilson is television's longest serving business and economic editor with a media career stretching over thirty years.
He joined Sky Television at its inception in 1989 and has anchored most of Sky's coverage of major business events through both boom and bust. He also writes for national and international media.
Michael has lectured in Europe and internationally on political and economic current affairs and has been published by the British Journalism Review. He won British Business Broadcaster of the Year in 2005 and was made a Freeman of the City of London in 2006.
See More