E-book
Cancer and its Management, 5th Edition
ISBN: 978-0-470-99487-0
544 pages
April 2008, Wiley-Blackwell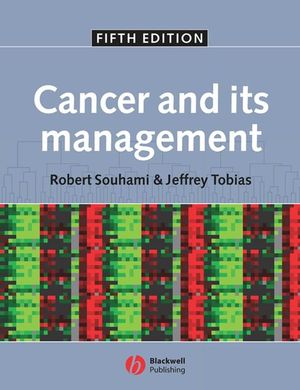 highly acclaimed comprehensive and practical text covering the principles and practice of the management of cancer
Why Buy This Book?



Includes up-to-date information on the most recent techniques and therapies available

Comprehensive and practical reference source of both common and rarer forms of cancer

Highlights frequent dilemmas and difficulties encountered during cancer management

Covers controversial topics including screening, genetic testing, prevention and AIDS-related cancers

Provides the reader with fundamental knowledge about oncogenes, epidemiology and staging, through to basic actions of different treatment modalities
Cancer and its management is ideal for all those concerned with he management of cancer:



Surgical, clinical and medical oncologists – both consultants and trainees


Nursing staff with an interest in cancer


General practitioners, and medical, nursing and pharmacy students
"This book is exactly what was needed. All in all, this book is destined to become a classic."
The Lancet

"......should be compulsory reading for all would-be cancer specialists. The authors' discussion of controversial topics...is excellent."
British Medical Journal

"This is, without exaggeration, the book when it comes to Cancer. ... All in all, the Cancer Bible."
Microscope (NottinghamUniversityMedicalSchool Gazette)
See More
Preface.
Abbreviations.
1 The modern management of cancer: an introductory note.
2 Epidemiology, cure, treatment trials and screening.
3 Biology of cancer.
4 Staging of tumours.
5 Radiotherapy.
6 Systemic treatment for cancer.
7 Supportive care and symptom relief.
8 Medical problems and radiotherapy emergencies.
9 Paraneoplastic syndromes.
10 Cancer of the head and neck.
11 Brain and spinal cord.
12 Tumours of the lung and mediastinum.
13 Breast cancer.
14 Cancer of the oesophagus and stomach.
15 Cancer of the liver, biliary tract and pancreas.
16 Tumours of the small and large bowel.
17 Gynaecological cancer.
18 Genitourinary cancer.
19 Testicular cancer.
20 Thyroid and adrenal cancer.
21 Cancer from an unknown primary site.
22 Skin cancer.
23 Bone and soft-tissue sarcomas.
24 Paediatric malignancies.
25 Hodgkin's disease.
26 Non-Hodgkin's lymphomas.
27 Myeloma and other paraproteinaemias.
28 Leukaemia.
Appendix.
Index
See More
A highly acclaimed comprehensive and practical text covering the principles and practice of the management of cancer


Includes up-to-date information on the most recent techniques and therapies available

Comprehensive and practical reference source of both common and rarer forms of cancer

Highlights frequent dilemmas and difficulties encountered during cancer management

Covers controversial topics including screening, genetic testing, prevention and AIDS-related cancers

Provides reader with fundamental knowledge about oncogenes, epidemiology and staging, through to basic actions of different treatment modalities
See More