E-book
Advanced Dietary Fibre Technology
ISBN: 978-0-470-99960-8
E-book
560 pages
May 2008, Wiley-Blackwell
US $219.99

Purchase This E-book
This price is valid for United States. Change location to view local pricing and availability.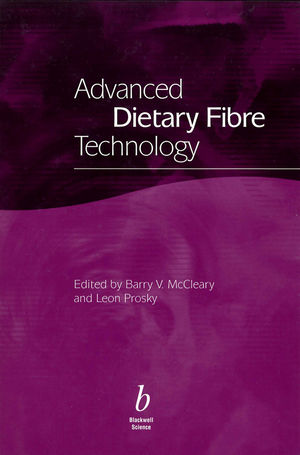 Adobe e-books are read using Adobe Digital Editions. Install Adobe Digital Editions on your PC in order to read or transfer your e-book.
Preface; List of Contributors; Nutrition and Diet for a Healthy Lifestyle - Nutrition and diet for heatlhy lifestyles in Europe; Dietary advice in North America: The good, the bad and the unheeded; Chemistry, Structure and Rheology - Light microscopic investigations on dietary fibre; Assembly and rheology of non-starch polysaccharides; The structures and architectures of plant cell walls define dietary fibre composition and the textures of foods; Measurement of Dietary Fibre and Dietary Fibre Components - What is dietary fibre? - A new look at the definition; Development of dietary fibre methodology; Measurement of dietary fibre componenets: The importance of enzyme purity, activity and specificity; In vivo and in vitro methods for resistant starch measurement; Regulatory Issues - Analytical issues regarding the regulatory aspects of dietary fiber nutrition labeling; Regulatory issues relating to dietary fibre in the European context; Health Benefits of Dietary Fibre - Dietary fibre in health and disease; Dietary fibre, carbohydrate metabolism and chronic disease; Dietary fibre and gastrointestinal function; Dietary fibres and dietary lipids; Food polysaccharides, glucose absorption and insulin sensitivity; Fermentation of oligosaccharides and influences of fermentation products; Cholesterol lowering properties of cereal fibres and fractions; Effects of psyllium on cholesterol levels; Non-digestible carbohydrates and gut function - Implications for carcinogenesis; Cereal fibre and heart disease; Technological Aspects - Developing fibre rich foods in the 21st century; Technological aspects of dietary fibre; Oatrim and nutrim X: Technological development and nutritional properties; Effects of processing on the properties of dietary fibre; Fibres and fibre blends for individual needs - A physiological and technological approach; Cereal Cell-Wall Polysaccharides - Cereal arabinoxylan: Occurence, structure and properties; Cereal B-Glucans: Structure, properties and health claims; Legume-Seed Polysaccharides - Novel galactomannans and galacto-manno-oligosaccharides from Guar; Physiological and technological functions of partially hydrolysed Guar gum (modified galactomannans); Dietary fibres of lupins and other grain legumes; Pectins - Pectins, their origin, structure and functions; Chemistry and enzymology of pectins; Resistant Starch - Resistant starch: Plant breeding, applications development and commercial use; In Vivo and In Vitro digestion of resistant starch; Resistant starch, health aspects and food uses; Structural features of resistant starch; Other Polysaccharides - Nutritional benefits of larch arabinogalactan; Oligosaccharides - Non-digestible oligosaccharides and polysaccharides: Their physiological effects and health implications; Development and beneficial effects of fructooligosaccharides (neosugar); Fructooligosaccharides and other fructans: Chemistry, structure and nutritional effects; Galacto-oligosaccharides: Properties and health aspects; Polydextrose: Analysis and physiological benefits; Fibersol-2: A soluble, non digestible, starch-derived dietary fibre; Index.