Integrated Chemical Systems: A Chemical Approach to Nanotechnology
ISBN: 978-0-471-00733-3
342 pages
September 1994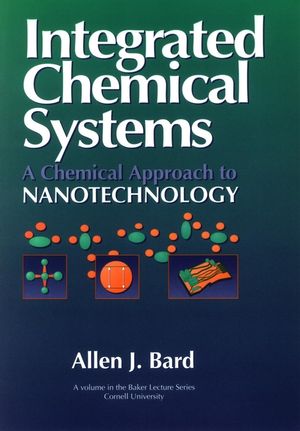 The first book to present a systematic approach to nanosystems Fully supplemented with actual examples and scores of figures and photo illustrations, Integrated Chemical Systems takes the discussion of nanotechnology and nanosystems out of the realm of speculation and into the real world. This book presents a detailed discussion of various approaches to the fabrication and characterization of nanosystems and offers a firm theoretical basis for the operation of electrochemical and photoelectrochemical systems, making analogies between synthetic and naturally occurring nanosystems. The author uses examples taken from his own groundbreaking research and that of others to create a clear picture of the progress that has been made in this exciting new area of research. Having established the state of the art, he goes on to offer realistic projections of future systems and their applications. Topics discussed include:
* Currently available methods for the construction and characterization of nanosystems, including spectroscopic and nuclear magnetic resonance systems
* Modified electrodes and electrochemical methods for characterizing them
* Fabrication of semiconductor-based systems for photoelectrochemistry
* Suggestions and ideas for future research and projections of future systems and their applications
See More
Construction of Integrated Chemical Systems.

Characterization of Integrated Chemical Systems.

Chemically Modified Electrodes.

Electrochemical Characterization of Modified Electrodes.

Photoelectrochemistry and Semiconductor Materials.

Future Integrated Chemical Systems.

Index.
See More
About the author ALLEN J. BARD is Norman Hackerman-Welch Regents Chair in Chemistry at the University of Texas at Austin, where he has been a faculty member since 1958. Professor Bard is the recipient of more than twenty academic awards, most recently the Luigi Galvani Medal of the Societa Chimica Italiana, 1992; the G. M. Kosolapoff Award of the American Chemical Society, 1992; and the Award for Outstanding Achievement in the Fields of Analytical Chemistry of the Eastern Analytical Symposium, 1990. A frequent lecturer at major universities throughout the United States and Canada, and a member of numerous professional and academic organizations, Professor Bard is Editor in Chief of the Journal of the American Chemical Society and served as president of the International Union of Pure and Applied Chemistry from 1991 to 1993. He received his PhD in electroanalytical chemistry from Harvard University in 1958.
See More