Knowledge@Wharton: On Building Corporate Value
ISBN: 978-0-471-00830-9
240 pages
November 2002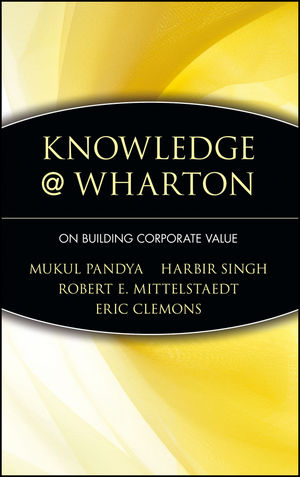 Offers a new way of looking at the perplexing circumstances surrounding business today.
Knowledge@Wharton on Building Corporate Value examines the financial and strategic approaches for bringing companies back from the bleeding edge. Through a combination of research, Wharton Executive Education programs and events, and company cases and interviews with industry leaders, this book delivers epiphanies for managers who have lost their way in the e-craze. The authors provide a framework for applying more robust and rigorous approaches to financing, outsourcing, R&D, company infrastructure, and customer relationship management.
See More
Introduction: You Cannot Violate the Laws of Economics.

PART I: FRAMEWORK.

1. A Hare, a Tortoise, and the Business of Buying Groceries Online.

2. Creating Internet Strategies for Competitive Advantage.

3. Customer Behavior and Internet Strategies.

4. Managing Risks in Internet Strategy.

PART II: EXPERIENCE.

5. How an Internet-Based Strategy Affects Financial Services.

6. Internet Strategy and the New Media.

7. Post Mortem: Lessons from the Online Stamp Market.

8. Online Exchanges: Do They Have a Future?

Conclusion: Sustaining Competitive Advantage Amid Uncertainty.

Appendix: Selected Readings.

Endnotes.

Index.
See More
KNOWLEDGE@WHARTON (http://knowledge.wharton.upenn.edu) is a biweekly online resource that offers the latest business and finance insights and research, including analysis of current trends, interviews with industry leaders, perspectives from the Wharton faculty, and information from Wharton seminars and programs. With a subscriber base of 180,000 registered users in more than 189 countries, Knowledge@Wharton is recognized worldwide as a leading source of unique and timely information on the global business marketplace.

MUKUL PANDYA is the Executive Editor of Knowledge@Wharton.

HARBIR SINGH is Chair of the Management Department at the Wharton School and has published articles in the California Management Review and the Strategic Management Journal.

ROBERT E. MITTELSTAEDT is Vice Dean and Director of the Aresty Institute of Executive Education at the Wharton School. He is also a published author.

ERIC CLEMONS is a distinguished professor at the Wharton School and a published author.
See More