Rendezvous with Ada 95, 2nd Edition
ISBN: 978-0-471-01276-4
608 pages
March 1995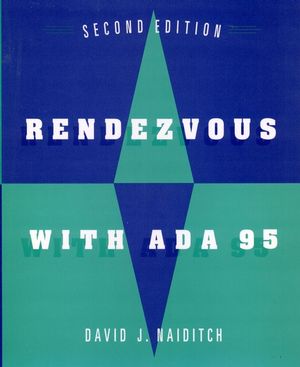 Ada 95 is the first new version of Ada since 1983 when it was designated the official programming language of the Department of Defense. This book was specifically designed for those who need to quickly acquire an in-depth working knowledge of Ada 95. It provides readers with easy-to-follow, step-by-step guidance on all aspects of this powerful language. And, while all the other Ada guides devote, at best, a special chapter to this new version, Rendezvous With Ada 95 offers fully integrated coverage of all the language's new features and characteristics. Written by an author who helped develop the new Ada language standard, it gives you:
* Expert guidance on powerful new Ada 95 constructs that support object-oriented programming,programming-in-the-large, and real-time programming
* Integrated coverage of all new features and improvements, including hierarchical libraries, type extension, classwide programming, general access types, and protected objects
* Detailed coverage of all Ada basics, from data types and control structures to subprograms and packages
* Presentation of advanced features, such as generics, tasking, hardware, interfacing, and exception handling
* Icons in margin to highlight Ada 95 features
* Numerous code examples and exercises to test reader understanding of key concepts
See More
Basics of Ada.

Control Structures.

Arrays.

Records.

Blocks, Procedures, and Functions.

Packages.

Generics.

Compilation Units.

Exceptions.

Access Types.

More About Types.

Object-Oriented Programming.

Input/Output.

Concurrent Programming.

Low-Level Programming.

Index.
See More
DAVID J. NAIDITCH is a software engineer with Hughes Aircraft Company in El Segundo, California. He has extensive experience teaching Ada at UCLA, Hughes, and seminars throughout the United States.
See More