Business Systems Engineering: Managing Breakthrough Changes for Productivity and Profit
ISBN: 978-0-471-01884-1
304 pages
December 1994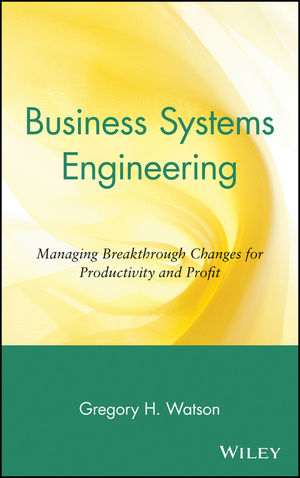 A guide to combining two powerful management techniques to transform any business organization into a masterpiece of business efficiency. Lester Dean Thurow, Dean of MIT's Sloan School of Management, recently stated that benchmarking combined with process engineering will be the most important management technique of the 1990s. Now, in this groundbreaking book, Gregory Watson describes how top corporations worldwide have already successfully implemented that powerful cutting-edge technique--which he calls "business systems engineering"--to promote continuous improvement. More importantly, he clearly demonstrates how you can do the same in your organization.
* Introduces business systems engineering, a dynamic new approach to rethinking and redesigning business processes to achieve dramatic improvements in quality, cost, service, speed, and more
* Offers clear guidelines for using business systems engineering techniques to make your organization more dynamic, productive, and able to adapt to change in today's global marketplace
* Incorporates key aspects of TQM, business process improvement, policy deployment, industrial engineering, teamwork, problem solving, and information technology into one holistic system
* Includes business systems engineering success stories, including those at Compaq, United Services Automobile Association and Motorola, as well as a survey of the effect of systems change across the global automobile industry
See More
Learning: The Root of Change.

Innovation Seeks Productivity.

FOUNDATION OF BUSINESS SYSTEMS ENGINEERING.

Definition of Business Systems Engineering.

Elements of Business Systems Engineering.

TOOLS OF BUSINESS SYSTEMS ENGINEERING.

Process Analysis Measures Performance.

Benchmarking Introduces New Perspectives.

Information Technology Provides Enablers.

Policy Deployment Fosters Teamwork.

APPLICATIONS OF BUSINESS SYSTEMS ENGINEERING.

Engineering Product Design: Creating Competitiveness in the Automotive Industry.

Engineering Manufacturing Systems: The Bandit Line at Motorola.

Engineering Customers Service: The Compaq Response to the Attack by Dell.

Engineering the Office: A Paperless Factory at USAA.

MAKING IT HAPPEN.

Lessons Learned from Engineering Business Systems.

An Invitation to Engineer Your Business System.

Chapter Notes.

Reengineering Bibliography.

Index.
See More
About the author GREGORY H. WATSON is an independent business advisor to Fortune 500 senior management teams. He has been Vice President of Quality at Xerox Corporation, Vice President of Benchmarking at the American Productivity & Quality Center and Director of Corporate Quality with Compaq Computer Corporation. His other books include Strategic Benchmarking, The Benchmarking Workbook, and A World of Quality: The Timeless Passport.
See More