International M&A, Joint Ventures & Beyond: Doing the Deal, Workbook
ISBN: 978-0-471-02250-3
232 pages
September 2002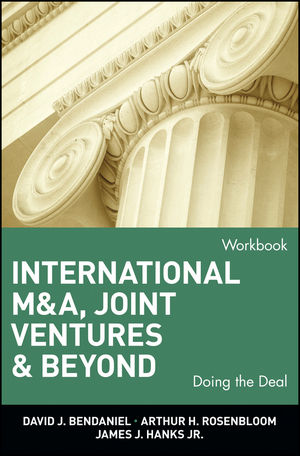 Increasingly common in today's market, international mergers and acquisitions (M&As) are being sought by a growing number of companies looking to foster dynamic corporate development. These savvy businesses are reaching across international borders and trade barriers to target viable M&A prospects. If the risks can be great, the rewards can be even greater.
While thousands of corporations have taken this route, before you initiate an international M&A venture of your own, it's essential to have a firm grasp of the complexities unique to these international deals. By focusing exclusively on the global aspects of M&As, this groundbreaking new resource, from a team of seasoned practitioners, gives you the expertise you need.
In International M&A, Joint Ventures and Beyond: Doing the Deal, you'll acquire the tools necessary to successfully navigate the potentially stormy seas of international deal making, project financing, and the intricacies of due diligence. First and foremost you'll learn to determine whether an international M&A initiative is right for your company's overall business needs. If you decide that it is, you'll need to develop a strong, proactive plan to identify, contact, and ultimately convince potential M&A candidates of the benefits of working with your company.
David BenDaniel and Arthur Rosenbloom take you step-by-step through this crucial strategic process. They reveal the finer points of such key topics as closing at a price that will provide sufficient return on investments, negotiating an agreement that offers the best possible protection, and executing a well thought out posttransaction integration plan.
With invaluable contributions from authorities at Baker & McKenzie, Arthur Andersen, Corning, KPMG Peat Marwick, and other leading firms, International M&A, Joint Ventures and Beyond: Doing the Deal includes checklists, real-world case studies, and in-depth coverage of:
* Legal issues when acquiring non-U.S. enterprises
* Accounting principles of international M&As
* Tax aspects of inbound merger and acquisition and joint venture transactions
* Government assistance in financing transactions
* Risk management in cross-border agreements
* Due diligence concerns and issues
International M&A, Joint Ventures and Beyond: Doing the Deal is a timely, accessible, and comprehensive resource for all who are involved in finding, analyzing, structuring, and negotiating these highly complex transactions.
"By assembling the highly focused works of more than two dozen businessmen, lawyers, accountants, investment bankers, consultants, and experts in such fields as risk management and human resources, BenDaniel and Rosenbloom seamlessly illuminate a complex subject." - Paul E. Graf, President and CEO, Axel Johnson Inc.
"Over the years I have learned a lot from David BenDaniel and Arthur Rosenbloom. Their material on international mergers and acquisitions is no exception. It provides a comprehensive overview of the field." - Stanley Komaroff, Proskauer Rose Goetz & Mendelsohn, LLP
See More
Introduction.
Part One: Chapter Questions.
Part Two: Student Outlines of Supplementary Lectures.
Forms of Business Integration.
Types of Buyer.
Why Do Buyers Buy and Why Do Sellers Sell?
Consideration Used in M&A Transactions.
Failure of M&A Transactions to Live Up to Expectations.
The Anatomy of a Merger.
Description of Merger Stages.
Due Diligence.
Due Diligence Checklist.
Cross-Border Transactional Pricing and Structuring.
Project Sand.
Part Three: Agreements and Forms.
Engagement Buy Side.
Engagement Sell Side.
Confidentiality Agreement.
Disclaimer Letter.
Table of Contents of Descriptive Memorandum.
Letter of Intent.
Fairness Opinion.
Bringdown Opinion Letter.
Closing Memorandum.
Part Four: Questions on National Australia Bank Ltd. and Michigan National Corporation Agreement and Plan of Merger.
Part Five: Questions on DaimlerChrysler Merger.
Part Six: Answers to Chapter Questions.
Part Seven: Additional Readings.
See More
DAVID J. BenDANIEL is the Don and Margi Berens Professor of Entrepreneurship at the Johnson Graduate School of Management at Cornell University, where he serves as a Senior Fellow of the Entrepreneurship and Personal Enterprise Program. He held a senior vice presidency in Textron Corporation?s American Research and Development division, was a group vice president at Exxon Enterprises, and started General Electric?s Technical?Ventures Operation. He has been featured in publications including Fortune, BusinessWeek, Success Magazine, and Physics Today.
ARTHUR H. ROSENBLOOM is Managing Director of CFC Capital Corp., a firm specializing in securities valuation, litigation support, merger and acquisition advisory, and private placements of debt and equity. Rosenbloom?s M&A advisory and valuation work has involved him with companies as diverse as Blockbuster Video, VNU, American Express, Hyatt Corp., and Continental Airlines, Inc., to name a few. His contributions on investment banking?related topics have appeared in Inc., Forbes, BusinessWeek, and the Harvard Business Review.
JAMES J. HANKS Jr. is a partner in the Baltimore office of Ballard Spahr Andrews & Ingersoll, LLP. In private practice, he represents publicly and privately held corporations and other entities in securities offerings and other financing transactions. He is also an Adjunct Professor at the Johnson Graduate School of Management at Cornell University, where he teaches international mergers and acquisitions, and an Adjunct Professor of Law at Cornell Law School, where he teaches a course in U.S. and European corporate governance at the Cornell Law School Summer Institute at the Sorbonne in Paris.
See More