Chemistry and Technology of Lime and Limestone, 2nd Edition
ISBN: 978-0-471-02771-3
592 pages
February 1980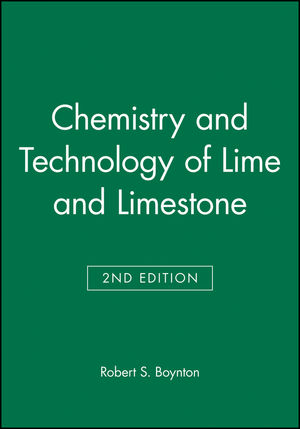 Principles of Industrial Chemistry Chris A. Clausen III & Guy Mattson The first book specifically designed to help the academically trained chemist make the transition to the real world of industry. It uses process development as a general theme to provide information normally acquired only through on-the-job training. The authors trace an industrial chemical process from idea stage to fully operational plant, discuss concepts in unit operation and their applications, and deal with such subjects as material accounting, energy accounting, mass transport, heat transfer, principles of kinetics, separation methods, instrumentation, economic concepts, and patent procedures. A valuable overview and insight into the industry. 1978 The Chemistry of Silica Solubility, Polymerization, Colloid and Surface Properties, and Biochemistry Ralph K. Iler Silica, the major component of the earth's solid surface, the constituent of ordinary sand, and an essential material in many forms of life, is involved in many phases of modern technology and science. Its role in human disease, aging, and health is just beginning to be explored. Here is a comprehensive account of the basic chemistry involved in a wide range of research and development activities. Also a wealth of information on production and production control. Anyone involved with R&D or production in the many diverse fields and industries in which silica plays a vital role--chemistry, biology, medicine, agriculture, metallurgy, and mining--will find this book an invaluable reference. 1979 Fourth Edition of Faith, Keyes & Clark's Industrial Chemicals Frederick A. Lowenheim & Marguerite K. Moran The latest updated edition of a manual whose popularity for a quarter-century attests to its usefulness as a handy reference--a concise, quick-study source of essential information on 145 commonly used chemicals. For each of them, the book covers such subjects as reaction and yield or recovery; material and energy requirements by quantities; detailed explanation of the process involved (with illustrations and flow diagram); uses of the end product and important by-products; economics of production; specifics on properties, grades, containers and regulations; list of manufacturers and plant locations; and volume of production and price ranges over the past two decades. A valuable time-saver. 1975
See More
Introduction.

Formation and Properties of Limestone.

Limestone Exploration and Extraction.

Limestone Processing.

Limestone Uses.

Theory of Calcination.

Definitions and Properties of Limes.

Lime Manufacture.

Theory of Lime Hydration.

Methods of Hydration.

Uses of Lime.

Economic Factors Affecting Lime and Limestone.

Analytical Testing of Limestone and Lime.
See More
About the author. ROBERT S. BOYNTON has been intimately involved with lime and limestone most of his business life as Executive Director of the National Lime Association for 32 years. He has served as Chairman of the Association's Technical Committee, and as Secretary, Committee C-7 on lime of the ASTM (American Society of Testing Materials). Mr. Boynton was an investigator in the organization of the International Lime Association, and he has travelled extensively in Europe on investigations. During World War II, he served a stint in the Chemicals Bureau, War Production Board, as commodity specialist of lime and a few other inorganic chemicals, presiding over Lime Industry Advisory Committee Meetings. Since his retirement in 1978, he has utilized his far-ranging knowledge of the industry's technology and markets as a consultant.
See More