Storage Area Network Essentials: A Complete Guide to Understanding and Implementing SANs
ISBN: 978-0-471-03445-2
528 pages
November 2001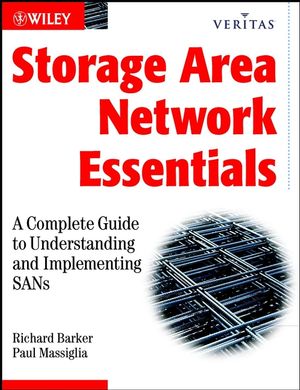 The inside scoop on a leading-edge data storage technology
The rapid growth of e-commerce and the need to have all kinds of applications operating at top speed at the same time, all on a 24/7 basis while connected to the Internet, is overwhelming traditional data storage methods. The solution? Storage Area Networks (SANs)--the data communications technology that's expected to revolutionize distributed computing. Written by top technology experts at VERITAS Software Global Corporation, this book takes readers through all facets of storage networking, explaining how a SAN can help consolidate conventional server storage onto networks, how it makes applications highly available no matter how much data is being stored, and how this in turn makes data access and management faster and easier. System and network managers considering storage networking for their enterprises, as well as application developers and IT staff, will find invaluable advice on the design and deployment of the technology and how it works. Detailed, up-to-date coverage includes:
The evolution of the technology and what is expected from SANs
Killer applications for SANs
Full coverage of storage networking and what it means for the enterprise's information processing architecture
Individual chapters devoted to the storage, network, and software components of storage networking
Issues for implementation and adoption
See More
Acknowledgments.

Foreword.

Introduction.

PART ONE: UNDERSTANDING STORAGE NETWORKING.

What Storage Networking Is and What It Can Mean to You.

Benefits: What to Expect from SANs.

Leading up to SANs: One View of Data Center Evolution.

Killer Apps for SANs.

PART TWO: THE PARTS: WHAT'S IN A SAN.

Storage Networking Architecture.

The Storage in Storage Networking.

The Network in Storage Networking.

Basic Software for Storage Networking.

Advanced Software for Storage Networking.

Enterprise Backup Software for Storage Area Networks.

PART THREE: SAN IMPLEMENTATION STRATEGIES.

Adopting Storage Networking.

Managing SANs.

Afterword: Speculations on the Future of SAN.

Appendix: Storage Networking Organizations.

Dictionary of Storage Networking Terminology.

Index.
See More
RICHARD BARKER is a Senior Vice President of VERITAS Software Corporation. Previously he was Senior Vice President of Product Division in both OpenVision Technologies and Oracle Corporation. He is also the author of three books on systems engineering and a former board member of the Storage Area Networking Association.
PAUL MASSIGLIA is a Technical Director of Engineering at VERITAS Software Corporation. He has spent the last twenty years working with technology in the storage sector in both engineering and product management. Massiglia is a member of the Board of Directors of the Storage Networking Industry Association (SNIA) and is the author of three previous books on storage.
See More
Learn more about