The New Science of Technical Analysis
ISBN: 978-0-471-03548-0
264 pages
October 1994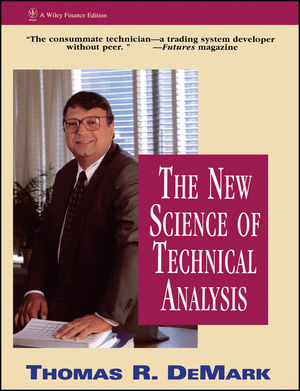 From the Foreword by John J. Murphy "DeMark's work as a consultant has been restricted to large institutions and many of the legendary traders in the world today. By sharing his creative ideas with us, as well as his passion for precision and improvement, Tom DeMark's emphasis on the 'new science' of technical analysis helps push the technical frontier another step forward. With the unprecedented attention now being paid to technical analysis, this new book couldn't have come at a better time." --John J. Murphy, bestselling author of Technical Analysis of the Futures Markets and Intermarket Technical Analysis, and technical analyst for CNBC "This book is filled with innovative, creative, and clever new ideas on technical analysis. Tom DeMark has done a wonderful job of turning subjective techniques into objective strategies and tactics." --Courtney Smith President and CIO Pinnacle Capital Management, Inc. "Those who know him and his work call him the consummate technician--a trading system developer without peer." --Futures magazine "DeMark is the ultimate indicator and systems guy. No one touches him. I know the Holy Grail of trading systems doesn't exist because if it did, Tom would have found it by now." --James Bianco Director of Arbor Trading "Tom DeMark is a genuine leader who has been behind-the-scenes until now. Publishing DeMark is a coup." --Ralph Vince author of The Mathematics of Money Management
See More
Trendlines.

Retracements.

Overbought/Oversold.

Wave Analysis.

Accumulation/Distribution.

Moving Averages.

Sequential.

Gaps.

Daily Range Projections.

Rate of Change.

Equities.

Options.

``Waldo'' Patterns.

Conclusion.

Index.
See More
About the author THOMAS R. DeMARK and his impressive body of technical systems and indicators have been a major force at some of the largest and most successful trading operations in the world. In 1992, he formed Devan Capital with his partner Van Hoisington, of the multibillion dollar Hoisington Investment Management Co. He is the subject of an extensive profile in Futures and has appeared regularly on CNBC and other financial networks.
See More
Learn more about