Shopping Centers and Other Retail Properties: Investment, Development, Financing, and Management
ISBN: 978-0-471-04002-6
528 pages
March 1996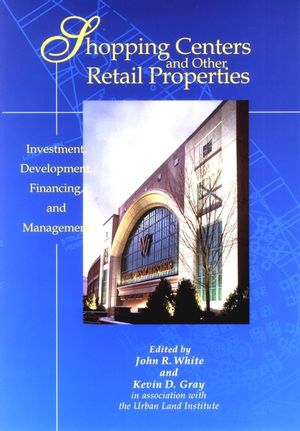 Shopping centers and other forms of retail properties continue to be among the soundest real estate investments in North America. But retail property is a highly specialized field of real estate development with a unique and complex set of legal, financial, development, management, and marketing variables about which investors and developers must possess a sound working knowledge. Now this book arms with you with that knowledge, and much more.

The most comprehensive, authoritative, up-to-date resource of its kind, Shopping Centers and Other Retail Properties covers every vital aspect of negotiating, buying, selling, developing, managing, and marketing shopping centers and other retail properties. Editors John R. White and Kevin D. Gray, of the leading real estate consulting firm Landauer Associates, and an all-star team of experts in the field of shopping center and retail property development, share everything they know about:
* All important legal issues
* Investment and feasibility analysis
* Valuation requirements and performance measures
* Planning, designing, and renovating retail properties
* Developing and investing in local and community shopping centers, highway retail centers, and regionals and super regionals
* Operating and managing retail centers
* Mortgage financing and financing through public and private equity issues
* Space marketing and lease terms
* Macro and micro market analysis
* And much more


Shopping Centers and Other Retail Properties is an indispensable working resource for both new and experienced retail property investors and developers as well as those who work with them, including attorneys, accountants, analysts, appraisers, planners, managers, brokers, and consultants.

"Timely insights into an industry undergoing tremendous change." --

For both newcomers and seasoned professionals in retail property investment, this book provides a wealth of vital information on every aspect of developing and managing shopping centers and retail properties. Written by an all-star team of specialists in the field, Shopping Centers and Other Retail Properties:
* Provides expert guidance on financing, developing, operating, and managing shopping centers and other retail properties
* Covers analysis of retail market demand, investment and feasibility analysis, appraisal, mortgage financing, financing by equity, new planning formats, and much more
* Serves as an indispensable working resource for investors, developers, attorneys, accountants, analysts, appraisers, planners, managers, brokers, and consultants


"An authoritative work that will be immensely useful to anyone interested in retail real estate." --

"Retail developments have become the key investments now targeted in real estate. No two people have commanded more respect for expertise than this book's editors. There are many, many books attempting to guide readers in this field. In my experienced view, none compares to the excellence and usefulness of this text." --
See More
Partial table of contents:

Retailing in the Twenty-First Century (R. Blackwell).

The Investment Structure and Investors in Retail Real Estate (H. Mautner).

Analyzing Market Demand for Shopping Centers (R. Kateley).

Analyzing the Specifics of Retail Markets (C. Ray).

The Formats Employed in New Retail Strategies (H. Gelbtuch).

Planning, Designing, and Renovating Retail Properties (L. Josal & J. Scalabrin).

Developing and Investing in Regional and Super-Regional Malls (M. Bucksbaum & M. Bucksbaum).

Space Marketing and Lease Terms in Shopping Centers (M. Munaretto).

Operating and Managing Retail Centers (H. Carlson).

Various Means of Debt Financing for Shopping Centers (R. Jennings).

Sales Agency Marketing of Shopping Centers (G. Whitmore).

Appraising Retail Properties (P. Korpacz).

Accounting Aspects of Retail Properties (R. Lowe).

Epilogue.

Index.
See More
About the editors

JOHN R. WHITE, MAI, CRE, held an AB degree from Harvard and an MBA in marketing and real estate from New York University. He was the long-term president, chairman and chief executive officer of Landauer Associates, Inc., New York, an international real estate consulting firm. He acted as a consulting intermediary in the purchase or sale of the former Pan Am Building in New York, L'Enfant Plaza in Washington, D.C., and the Bank of the Southwest in Houston, and he arranged $500 million in financing for the General Motors Building in New York. John White was a board member of 10 real estate, banking, insurance, and development companies and received a dozen awards from civic and trade associations for his contributions to real estate. He was the author of over 100 published articles on real estate finance, investment, and valuation, and wrote or contributed to four books. He was Editor in Chief and contributing author of The Office Building: From Concept to Investment Reality. He died on March 29, 1995, shortly after completion of his work on this book.

KEVIN D. GRAY, CRE, is Senior Vice President of Landauer Associates in New York, with 17 years of experience in investment consulting, retail planning, and architecture. He specializes in strategy consulting and research for foreign and domestic pension funds, institutions, investment banks, and developers. Kevin Gray holds an MA in finance from the Yale School of Management, and BA and MA degrees in architecture from the University of Pennsylvania. He is a registered architect in Connecticut and a certified appraiser in numerous states. He is the author of several articles on real estate topics.
See More