World Weeds: Natural Histories and Distribution
ISBN: 978-0-471-04701-8
1152 pages
March 1997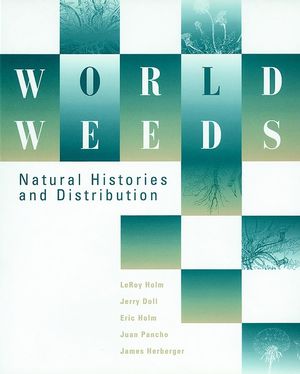 Responsible for a high proportion of the world's crop losses, weeds take away food that the world badly needs. They decrease the quality and quantity of vegetable fibers, wool, and hides, and interfere with fishing, irrigation, hydroelectric power production, and the movement of shipping vessels. In order to recognize the true magnitude of the weed problem, and to be better equipped to design effective weed control methods, it is vital to identify and learn as much as possible about the many different species of this destructive agricultural predator.

The culmination of four decades of global research, World Weeds presents comprehensive and up-to-date information on over 100 weeds--addressing recent changes in such areas as crop tillage methods, herbicide use, and agricultural runoff. This monumental work, featuring a wealth of original data from the authors, provides extensive coverage of the known biology of each species. Each entry contains a full botanical description, plus important details on habitat requirements and distribution, seed production, ecology, physiology, crop impact, and more. Generously supplied with dozens of unique illustrations and species distribution maps covering over 100 countries, this definitive resource boasts an extensive multilingual index of common names, and a massive bibliography with over 3,000 references to facilitate further reading and research. World Weeds is a truly masterful reference that will be celebrated by weed and crop scientists, botanists, and others for years to come.
See More
LeRoy Holm is a former professor in the College of Agriculture at the University of Wisconsin, Madison.

Jerry Doll is Professor in the Department of Agronomy at the University of Wisconsin, Madison.

Eric Holm was formerly a researcher on remote sensing and geographic information systems with the United States Geological Survey at the Earth Resources Observation Systems Data Center (EROS) at Sioux Falls, South Dakota.

Juan Pancho is Professor Emeritus of the Department of Botany and Museum of Natural History at the University of the Philippines, Los Banos.

James Herberger was formerly a weed specialist with Imperial Chemical Industries (now Zeneca) in the United States.
See More